Maleficent: Mistress of Evil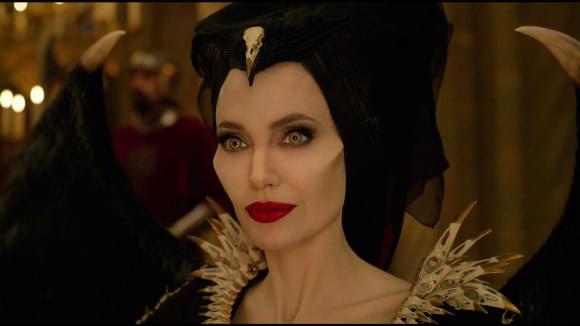 Photo: ©2019 Disney Enterprises, Inc.
Director(s): Joachim Rønning
Writer(s): Linda Woolverton, Noah Harpster and Micah Fitzerman-Blue
Cast: Angelina Jolie, Elle Fanning, Harris Dickinson, Michelle Pfeiffer, Sam Riley, Chiwetel Ejiofor, Ed Skrein, Robert Lindsay, David Gyasi, Jenn Murray, Juno Temple, Lesley Manville, Imelda Staunton and Warwick Davis
Reviewed by: Ian Evans on
Release Date(s)
Oct 17, 2019 - Wide


Disney fairy tales are used to dealing with kings and queens, charming princes and towering castles, wondrous creatures and wonderful worlds. Though these stories have always had some dark elements, I'm guessing that genocide is a new angle, but that's exactly where Maleficent: Mistress of Evil takes us.

As our story begins, Aurora (Elle Fanning) is Queen of the Moors and reigns over a frolicking land of pixies, fairies, gnomes and walking trees. When her beau Prince Philip (Harris Dickinson, stepping in for Brenton Thwaites) proposes, Aurora can't wait to share the news with her beloved godmother, Maleficent (Angelina Jolie). Maleficent is not enthralled by the idea. She's not ready to see her goddaughter go and she remains understandably wary of humans. Still, the engaged couple manage to convince her to go to a "meet the parents" dinner in the Kingdom of Ulstead.

After some etiquette lessons from her shape-shifting sidekick Diaval (Sam Riley) — "hide your fangs", "smile more", "don't sound threatening" — Maleficent and the gang head over to Ulstead, past the terrified pitchfork-wielding villagers and on to the castle. King John (Robert Lindsay) is a pacifist king who sees the marriage as a way to bring peace and understanding to the two realms. Queen Ingrith (Michelle Pfeiffer) is perhaps Ulstead's only viewer of Fox News' primetime schedule. After Ingrith launches into fake legends, Maleficent's background, and talk of "others", the party devolves quickly. Suddenly King John is incapacitated, Maleficent is blamed and injured, and Aurora's loyalties are tested.

At this point the movie, directed by Joachim Rønning working off a screenplay by returning screenwriter Linda Wolverton and Transparent scribes Noah Harpster and Micah Fitzerman-Blue, takes a darker turn. We're introduced to more of Maleficent's kind, the dark fey, and see that like the humans they're divided into those that seek peace like Conall (Chiwetel Ejiofor) and those who harbour thoughts of annihilation like Borra (Ed Skrein). The story gets even darker when we learn of Queen Ingrith's true intentions.

Speaking of darker, the movie fluctuates between the brightly-coloured world of the Moors and scenes that are so murky that you'll sometimes wonder who's doing what and where. The production and character design, both physical and CGI, is amazing. Soaring castle spires and dark and quirky dungeons are contrasted by sweeping meadows and palette-popping flowers and fairies.

Fanning's Aurora is a bit of a damsel-in-distress but at least she has more backbone than Dickinson's Prince Philip, who apparently must be the only eligible bachelor for a few hundred miles. Seriously, any spellbound princess kissed by this prince might pretend to keep sleeping just to avoid a dull marriage. Sam Riley's Diaval is both a loyal sidekick to Maleficent and part-time comic relief as he tries to smooth Maleficent's rougher edges, but in this sequel he also gets to be a bit of a hero. The trio of good fairies, played by Imelda Staunton, Juno Temple, and Lesley Manville, are still cute characters but their voices are pitched so high and their actions so fast that we can barely tell which character is talking let alone differentiate their characters. While we don't learn much about the pacifist King John (Robert Lindsay), he has the excuse of being under a sleep spell for most of the movie. The character depth for the dark fey isn't really there and good actors like Ejiofor and Skrein aren't given much space to develop past their immediate character traits.

That brings us to the two powerful women in the movie. Angelina Jolie's Maleficent is able to be both devilishly funny and powerfully threatening while also showing us moments of loss and feeling betrayed and abandoned. As strong as Maleficent is, the Mistress of Evil title really belongs to Michelle Pfeiffer's Queen Ingrith. Her icy queen is full of hatred, prejudices and blatant lies. She chews the scenery with all the strength of Disney's best villains. If she was any more over-the-top, she'd probably be asked to host a talk radio show. It's not easy to steal attention from Jolie, but Pfeiffer goes toe-to-toe with her.

The story movies into some dark themes, but it begins to feel like the filmmakers didn't have a path to see it through. It's as if they suddenly realized that they were making a Disney film aimed to bring in the big bucks from a family audience and had to get off the road that was leading them towards a Game of Thrones story. The resolution feels forced and incomplete. Though you'll be entertained by the performances of Jolie and Pfieffer and be dazzled by the production design and visual effects, you may leave Maleficent: Mistress of Evil feeling a bit underwhelmed by the story.