Muppets Most Wanted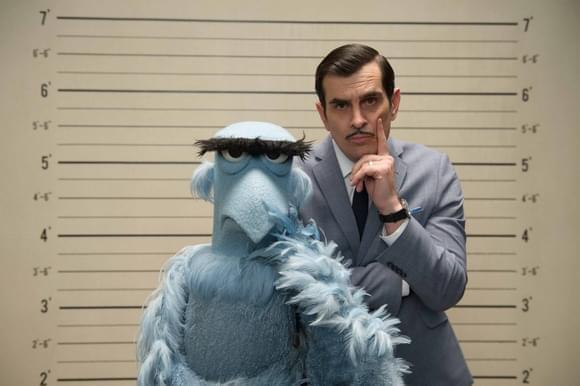 Photo: ©2013 Disney Enterprises, Inc.
Director(s): James Bobin
Writer(s): James Bobin and Nicholas Stoller
Cast: Ricky Gervais, Ty Burrell, Tina Fey, Steve Whitmire, Eric Jacobson, Dave Goelz, Bill Barretta, David Rudman, Matt Vogel and Peter Linz
Reviewed by: Ian Evans on
Release Date(s)
Mar 21, 2014 - Wide


In Muppets Most Wanted, master thief Constantine, a frog with a distinguishing mole, escapes from a gulag in order to stage bold heists across Europe. With the help of his #2, Dominic Badguy (Ricky Gervais), he trades places with Kermit the Frog and uses the Muppets as a cover for his nefarious plans. Kermit, mistaken for Constantine, is thrown into a Siberian gulag headed by Nadya (Tina Fey) and the Muppets gang blindly follow Constantine, tracked all the while by Interpol's Jean (Ty Burrell) and the CIA's Sam the Eagle. With Constantine not caring what the Muppets do in their performances, they bore audiences across Europe and we begin to realize how much they need Kermit's steady green felt hand on the rudder.

Constantine truly is a master thief, as he has somehow stolen all the charm and energy that made 2011's The Muppets such a charming and energetic hit. With a returning director (James Bobin) and co-writer (Nicholas Stoller) heading this enterprise, we can only assume that the breath of fresh air 2011's outing had given the franchise came from that movie's star and co-writer, Jason Segel.

As someone who loved watching the Muppets' weekly variety show, it almost seems sacrilegious to say that this one was nothing but a middling effort. We're almost genetically programmed to love the Muppets unconditionally, so it was a shock when, partway through the movie, I realized it was just "meh."

Tina Fey is great as the Broadway and Kermit-obsessed Russian warden who introduces Kermit to the gulag she runs in a big production number. Ray Liotta, Danny Trejo and Jermaine Clement (whose Flight of the Conchords partner Bret McKenzie wrote the film's music) make up a tough but talented prison cast. Modern Family's Ty Burrell, who plays Interpol investigator Jean Pierre Napoleon, has such an exaggeratedly awful French accent that I found myself leaning forward at times to decipher what he was saying to Sam the Eagle.

In a movie filled with big heists, the biggest crime had to be giving the extremely hilarious Ricky Gervais a role so lacking in laughs that it was almost a dramatic turn for the actor.

As with any Muppet show or movie, this one was big on blink and you miss them cameos from the likes of Tony Bennett, Sean Combs, Chloe Grace Moretz and Saoirse Ronan. In fact, there were so many additional people tossed into this film that I felt some of the Muppets troupe, like Fozzie the Bear and the recently introduced Walter, were not given enough screen time.

Though full of pop culture references, the Muppets have always had a streak of subversion and anarchy that keep the whole family — from kids to parents to the college crowd – laughing on different levels. This outing seems to have had the subversive vein removed surgically. I found myself smirking more than laughing and the only guffaw came from a joke riffing on one actor's reputation.

Muppets Most Wanted? More like Muppets Left Wanting.