Spectre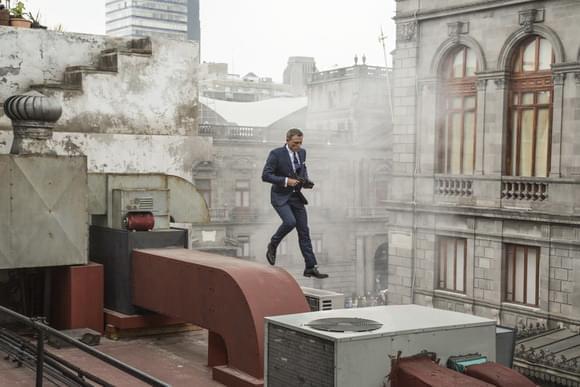 Photo: ©2015 Metro-Goldwyn-Mayer Studios Inc., Danjaq, LLC and Columbia Pictures Industries, Inc.
Director(s): Sam Mendes
Writer(s): John Logan, Neal Purvis, Robert Wade and Jez Butterworth
Cast: Daniel Craig, Christoph Waltz, Léa Seydoux, Ben Whishaw, Naomie Harris, Dave Bautista, Monica Bellucci, Ralph Fiennes and Andrew Scott
Reviewed by: Ian Evans on
Release Date(s)
Nov 6, 2015 - Wide


Spectre, Daniel Craig's fourth outing as Jame Bond, opens in Mexico City with an amazing pre-credit action sequence that takes us from a Day of the Dead parade to a 007 hit on an international terrorist. Bond being Bond, he manages to get the deed done while squiring a lovely woman and not even ripping his impeccably-tailored suit.

Bond's Mexico outing was following orders, but unfortunately, they weren't the orders of MI6's current M (Ralph Fiennes), a man who's already facing pressures from his boss, C (Andrew Scott), the head of the Joint Intelligence Service who thinks physical agents can be replaced by drones and electronic surveillance and plans to do so with a mega-project involving nine worldwide spy agencies.

If 007 is part of a dying breed, he's not going out quietly, and with the help of Moneypenny (Naomie Harris) and Q (Ben Whishaw), Bond tracks down SPECTRE, a criminal organization with its tentacles in many of the world's woes. Bond is hunted down by SPECTRE's head, Oberhauser (Christoph Waltz), who takes eradicating 007 personally, and MI6's man finds himself teaming up with a nemesis' daughter (Léa Seydoux) to fight the good fight.

While Craig's first outing as Bond, Casino Royale, gave him a grittier reboot after the campier Roger Moore and workmanlike Pierce Brosnan flicks, Spectre is full of the many tropes that we've come to expect from a 007 film, from unstoppable henchman (Dave Bautista), fast cars (a Jaguar C-X75) and faster women (an underused Monica Belllucci) to villains who explain their criminal enterprises in full before even attempting to kill Bond. One moment, Spectre embraces these tropes, the next it winks at them. When MI6 quartermaster Q gives Bond a new watch, 007 asks what it does. "It tells the time," quips Q, dryly.

Just as Bond balances on the edge of Mexican rooftops, so does Spectre balance between comically evil groups like SPECTRE and the democracy-threatening implications of global surveillance by governments. If you took equal parts Dr. Evil and the NSA and made sure the result was shaken, not stirred, you'd end up with the two fronts that Bond finds himself fighting on.

Craig did very well in Casino Royale and Skyfall, where he was allowed to take Bond to a darker place where violence and lifestyle choices can take a toll on one's body. He was very comfortable there. Though his suits appear to fit, the return to some of Bond's schtick seems to chafe a little with the actor and might explain why he's made noises about leaving the character behind.

Naomie Harris and Ben Whishaw get to stretch their legs a little bit more. Harris' Moneypenny is more than the flirtatious secretary of older Bond flicks and provides 007 with much needed assistance and research. Ben Whishaw too gets to expand the Q role past the "This pen is also a missile" sales pitches to actually doing some work in the field. Though Bond has usually worked alone, I think the concept of giving him a small team is something that can be expanded upon.

Léa Seydoux, who plays Dr. Madeleine Swann, portrays strength and intelligence, but the producers of the Bond series seem to be allergic to that notion and before long, she succumbs to Bond's charms and becomes just another in a line of Bond Girls.

Ralph Fiennes, sadly, is saddled with delivering the moral lectures to his superior, C. While Andrew Scott's C is a smug, smarmy, bureaucrat Fiennes does pull off the strength of a character whose stiff upper lip bearing is wrapped around a man who saw active duty in the SAS. Like Judi Dench before him, he's able to exhibit displeasure with — and respect for — Bond at the same time.

Dave Bautista's Hinx is part of the long line of mostly speechless henchman like Odd Job and Jaws. The former WWE wrestler has the physique necessary to provide Bond with an almost unstoppable foe.

Christoph Waltz has the chops to bring about a truly evil villain, but alas, his Oberhauser ventures away from the unhinged revenge of Skyfall's Silva (Javier Bardem) and gets too close to the Mike Myers' Bond villain parody Dr. Evil, right down to the Nehru jacket and buildings full of workers hired from some sort of evil temp agency. Of course, this isn't Waltz' fault, he's only following Sam Mendes' direction and the screenplay by John Logan and Neal Purvis & Robert Wade and Jez Butterworth.

Spectre is enjoyable and even though it clocks in at around two and a half hours, the action makes it feel shorter than that. In a way, though, it's like an extravagant desert. You might enjoy yourself during it, but upon reflection later you might decide that you wanted something with a bit less style and a little more substance. I doubt this is truly the fault of Mendes and the screenwriters and more the tone set by the producers. In a film world full of superhero action figures, maybe they felt a need to move away from the realism they toyed with and get closer to comic book characters.