The Nutcracker and the Four Realms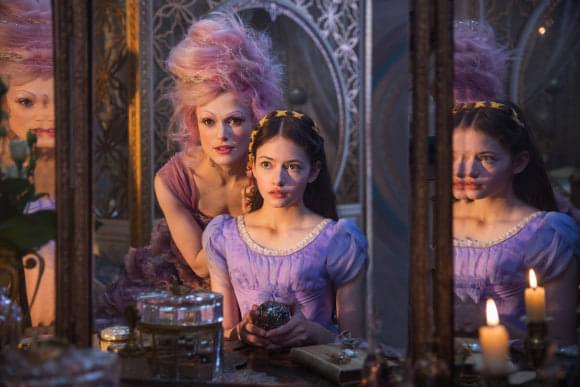 Photo: ©2018 Disney Enterprises
Director(s): Lasse Hallstrom and Joe Johnston
Writer(s): Ashleigh Powell and Tom McCarthy
Cast: Keira Knightley, Mackenzie Foy, Eugenio Derbez, Matthew Macfadyen, Richard E. Grant, Misty Copeland, Helen Mirren, Morgan Freeman, Jack Whitehall, Omid Djalili, Ellie Bamber and Tom Sweet
Reviewed by: Ian Evans on
The Nutcracker and the Four Realms is like an ornate but empty gift bag: it may be nice to look at but yields nothing of value. Disney is releasing it at the very beginning of the holiday shopping season and unfortunately it will likely be forgotten before the first gift is opened on Christmas Day.
The film has two stories, with one taking place onscreen and the other behind the scenes during its production. Onscreen, Clara (Mackenzie Foy) is an intelligent and creative young woman dealing with the recent death of her mother. Her brother Fritz (Tom Sweet) is an unstoppable ball of energy and obliviousness while Louise (Ellie Bamber) is the more grounded older sister whose main task here is to make Clara the middle child. Their father, Mr. Stahlbaum (Matthew Macfadyen), is dealing with the loss of his wife as a proper Victorian Englishman would by insisting that the family keep up appearances and traditions. That includes going to the party of Drosselmeyer (Morgan Freeman), Clara's godfather, whose parties are elaborate productions. Before heading over, Mr. Stahlbaum gives his children presents from their mother. Clara's is an ornate metal egg with a lock that she cannot open.
Her quest for the key begins at her godfather's estate and ends up in a magical kingdom of four realms (Sweets, Flowers, Snowflakes and Amusements). Her key is in the hands of Mother Ginger (Helen Mirren) whose Amusement realm is in ruins. With the help of a loyal nutcracker soldier, Phillip (Jayden Fowora-Knight), Clara is taken to meet the heads of the other realms, who inform her that their mother was once their queen. After being convinced by Sugar Plum (Keira Knightley) that the key is, well, the key to defeating Mother Ginger, Clara leads her troops on a quest only to discover that all is not what it seems.
That discovery applies to the off-screen plot as well. Lasse Hallström was originally the sole director of the film, working off a script by Ashleigh Powell. When it was decided last December that 32 days of reshoots were required, aided by new material written by Tom McCarthy, Hallstrom was unavailable and director Joe Johnston was brought in to helm the changes. In a rare move, the Directors Guild granted a request to allow the director's credit to be shared by Hallström and Johnston.
The Nutcracker and the Four Realms is a rare Disney film that lacks heart. It borrows heavily from the recent Alice in Wonderland films, leaning constantly on almost psychedelic CGI visuals that transport us to the magical realms. But we're never really transported to a place where we're connecting with Clara. For a young woman who recently lost her mother and discovered that her parent was also the queen of a fantastical place, she really seems to take it all in stride. We're not given much info on what caused the rift between the realms and the only storytelling that seems grounded is a nod to the Nutcracker ballet that features a dance performance by prima ballerina Misty Copeland. We're left to wonder if the lack of cohesion is the result of two directors and two screenwriters all working separately. Is the movie just over 90 minutes because the story moves that fast or is that the best edit that perhaps covered up changes in style? Even the "comic relief" characters portrayed by Jack Whitehall and Omid Djalili are distinctly mirthless.
Foy's Clara is intelligent and strong, but we know that in the film's opening minutes and her growth is stunted from there. Fowora-Knight's nutcracker is loyal but the material he's given makes his character about as wooden as its namesake. Morgan Freeman and Helen Mirren are not really given room to display much of their prowess but again, maybe their performances and scenes are on the cutting room floor. Eugenio Derbez and Richard E. Grant are also little more than day players as two of the realms' regents and Macfadyen is merely there so Clara's not an orphan. The only person who seems to be having any fun is Keira Knightley, whose Sugar Plum fairy seems to be related to Helena Bonham Carter's Red Queen in the Alice movies.
The Nutcracker ballet is a yearly tradition for some families. I don't see this adaptation of E.T.A. Hoffman's short story becoming an annual experience for many. For a company that's known for creating works that become part of our cultural fabric, The Nutcracker and the Four Realms is a misstep.
Read our profile.