The One and Only Ivan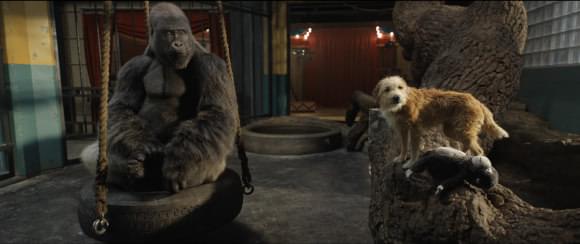 Photo: ©2020 Disney+
Director(s): Thea Sharrock
Writer(s): Mike White
Cast: Sam Rockwell, Bryan Cranston, Angelina Jolie, Danny DeVito, Helen Mirren, Brooklynn Prince, Ramón Rodríguez, Ariana Greenblatt, Chaka Khan, Mike White, Ron Funches and Phillipa Soo
Reviewed by: Ian Evans on
Release Date(s)
Aug 21, 2020 - Disney+


The One and Only Ivan, adapted from K.A. Applegate's novel, is the story of a silverback gorilla who performs as the headliner in a decrepit circus located in a failing shopping mall. Based on the true story of a gorilla who was kept in a Tacoma, Washington mall for 27 years, it has that strange blend of ingredients that make up many of Disney's family films: talking animals, cute kids, and the pathos of missing or ill parents. It's an interesting recipe, but Disney's earnings show that it's one that has worked over the years.

Ivan (the voice of Sam Rockwell) works in the circus at the Big Top Mall, a shopping centre whose most popular store appears to be "For Lease." The circus is operated by Mack (Bryan Cranston), an eternal optimist who tosses on a fake English accent as he tries to get the apathetic shoppers to fill the seats like they used to. Ivan's performance isn't very taxing, as he just has to yell and pound his chest. He's prone to ask himself "Why do they want an angry gorilla?"

When he's not doing that, he hangs out with the other animals: a stray dog (Danny DeVito), an aging elephant (Angelina Jolie), a regal poodle (Helen Mirren), a sporty chicken (Chaka Khan), a neurotic seal (Mike White, who also penned the screenplay) and a firefighting rabbit (Ron Funches). He's also befriended by Julia (Ariana Greenblatt), the young daughter of Mack's assistant, George (Ramón Rodríguez). Julia can tell that Ivan yearns for something better and also knows that this "angry gorilla" has the soul of an artist. When a baby elephant (Brooklynn Prince) is brought in to shake things up a bit, it only marks the beginning of many changes in Ivan's life.

Directed by British theatre director Thea Sharrock, The One and Only Ivan often feels like a play. Except for a few action pieces, Ivan and his canine pal spend a lot of time sitting around his cage talking. That restricted feeling only adds to the air of confinement. The elephant in the room is, in fact, the elephant and gorilla and seal and others in the room. These are majestic animals reduced to a confined, repetitive life in a sad little circus.

Besides the animal rights issues, there's the usual pathos found in about half of Disney's family films and only the most cynical and hardened viewer won't find their eyes welling up at several points in the film. Luckily, the emotional moments are balanced by the gentle humour contained in White's script.

Sharrock gets excellent performances out of her voice cast and her production team has created a menagerie of CG animals that blend perfectly with the real humans in this movie. Though The One and Only Ivan does contain familiar tropes, families will want to spend some time with Ivan and his friends.