Toy Story 2
Director(s): John Lasseter
Writer(s): Andrew Stanton, Rita Hsiao, Doug Chamberlin and Chris Webb
Cast: Tom Hanks, Annie Potts, John Ratzenberger, Wallace Shawn, Jim Varney, Don Rickles, Kelsey Grammer, Joan Cusack, Tim Allen and Wayne Knight
Reviewed by: Ian Evans on
Release Date(s)
Nov 24, 1999 - Wide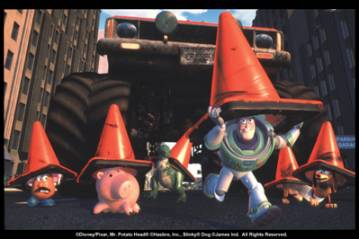 Get the car warmed up, Mom and Dad, you're taking the kids to see Toy Story 2. Yes, sure there are merchandise tie ins with this picture, but at least this story about toys has an infinite amount of warmth compared to Pokémon.
This film starts with the formerly adversarial toys Woody (Tom Hanks) and Buzz Lightyear (Tim Allen) being fast friends and the de facto leaders of Andy's toys. When Woody goes to rescue a forgotten toy from a yard sale, he inadvertently gets mixed up with the items for sale. A toy collector tries to buy him but Andy's mother realizes the mistake and turns him down.
The collector is none other than the owner of Al's Toy Barn (Wayne Knight). Realizing that Woody is a rare toy from the old kid's show Woody's Roundup, he waits for his chance and steals him. He reunites Woody with the other stars of the show including Jessie the Cowgirl (Joan Cusack) and Stinky Pete the Prospector (Kelsey Grammer). The set complete, Al prepares to send them off to a toy museum in Japan. Though initially reluctant to go, Woody begins to think that he'll soon be forgotten by Andy and decides not to escape.
Meanwhile, Woody's buddies prepare to rescue their kidnapped friend. Buzz Lightyear leads a team – Mr. Potato Head (Don Rickles), Hamm (John Ratzenberger), Rex (Wallace Shawn) and Slinky Dog (Jim Varney) – into the dangers of the outside world that lie between Andy's room and the toy store.
Technically, Toy Story 2 advances the computer animation of the first film even further into the realm of jaw-dropping effects. In the few years since Toy Story, the tools available to the creators have advanced considerably. The fabric of Woody's outfit, the lighting, camera movement and depth of field all allow the story to be told in a dazzling fashion.
For a lot of computer animation buffs, just sitting back and admiring the technology would be satisfaction enough. But director John Lasseter and his team realize that the animation is just the tool they have chosen to tell their story. It's the story that gets you into this movie. Friendships, betrayals, more action than a Stallone film and a truckload of comedy all blend together into a finished piece that had the audience I was with applauding at the end. This is family entertainment in the full sense of the term: a film that the whole family will enjoy. Nah, make that love.