Hurt Locker wins big at 82nd Oscars
Mar 08, 2010 by Ian Evans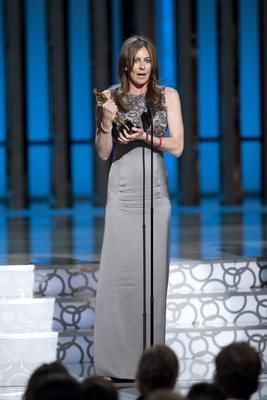 Kathryn Bigelow makes Oscar® history as the first woman to win Best Director. Photo credit: Michael Yada / ©A.M.P.A.S.
The 82nd Academy Awards® were handed out in Hollywood last night and the ceremony was a good one for The Hurt Locker, which went home with Oscars for six of its nine nominated performances. The film took home the top prize, Best Picture, while also making history with Kathryn Bigelow, the first woman to win for Best Director.
Bigelow's ex, director James Cameron, saw his mega-hit Avatar take home three of its nine nominations: art direction, cinematography and visual effects.
The ceremony, hosted by Steve Martin and Alec Baldwin, saw Jeff Bridges and Sandra Bullock take home Best Actor and Actress, while Mo'Nique and Christoph Waltz took home the supporting Oscars.
Most bizarre moment of the night? When Music by Prudence won for Documentary Short Subject, director Roger Ross Williams had his speech interrupted by producer Elinor Burkett who tore up on stage like an older female Kanye West. Burkett and Williams have had a contentious legal battle over the film and don't care for each other. Awkward…
We have full 2010 Oscar results and commentary.