14th Annual Screen Actors Guild Awards (2008)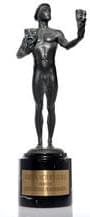 Actor Statuette
©2005 SAG
Date of Ceremony: Sunday, January 27, 2008
For performances seen in: 2007
Nominations Announcement: Thursday, December 20, 2007
Location: Shrine Auditorium, Los Angeles, CA
Sunday, January 27, 2008 arrived and played host to the 14th Annual Screen Actors Guild Awards at the Los Angeles Shrine Exposition Center.
It was the Guild's 75th year and SAG's 44th Life Achievement Award recipient was decorated war hero Charles Durning.
The year also brought two new honors, awarding recognition to the outstanding performances by a stunt ensemble in television and film.
Special thanks to the beautiful O Hotel for their assistance with our coverage stay and to Freeman Formalwear for Ian Evans' tuxedo.
Heading into the ceremony, the following production(s) had three or more nominations:
Into The Wild: 4
The Sopranos: 3
Michael Clayton: 3
Ugly Betty: 3
30 Rock: 3
No Country for Old Men: 3