39th Toronto International Film Festival Coverage: Day Four
Sunday, September 7th, 2014 by Ian Evans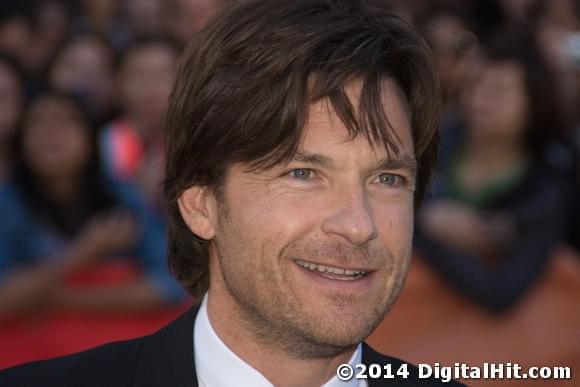 Sunday's here and we're off first to cover the premiere of Ned Rifle, which completes the trilogy started by Hal Hartley's Henry Fool and Fay Grim. The film stars Liam Aiken and Aubrey Plaza, who both attended the premiere this sunny afternoon. Aiken has worked in all three of the films and Hartley said it was like working with three actors: a young 7-year-old, a teenager dealing with his role and his own teenage issues, and now a young man who had grown into a hard-working, conscientious craftsman.
Next, over at Roy Thomson Hall we covered the gala premiere of This Is Where I Leave You and its all-star ensemble featuring Jason Bateman, Tina Fey, Jane Fonda, Adam Driver, Corey Stoll, Kathryn Hahn, Abigail Spencer, Connie Britton, and Dax Shepard. The film's screenwriter (and the writer of the novel it was adapted from), Jonathan Tropper, was also in attendance as was the film's director, Montreal-born Shawn Levy.
Jane Fonda actually auditioned for her role as the family matriarch and said she would have auditioned more than once to get the role, saying, "When you're my age, you don't get that many really good parts, that are very, very well-written and funny and also poignant. You don't let those get away from you."
Working with the legendary Jane Fonda was fun for the cast, with Kathryn Hahn saying that meeting her for the first time on set was one of the shoot's memorable experiences. Jason Bateman, asked if Fonda had given him any advice, remarked how cool and humble she was, saying that, "she would never assume that anyone could benefit from what she had to say" but added that it didn't stop him from asking.
Back at Ryerson University, the team from The Last 5 Years was walking the red carpet. Based on the musical of the same name, the film stars Anna Kendrick and Jeremy Jordan, and looks back at the last five years of a relationship as scene from different viewpoints.
The Equalizer was a CBS TV series starring Edward Woodward that ran from 1985 to 1989. It's now hitting the big screen courtesy of director Antoine Fuqua and Sony. The cast, featuring Denzel Washington, Chloë Grace Moretz, Marton Csokas, David Harbour, and Melissa Leo, took to the red carpet at Roy Thomson Hall. In the film, Washington plays an ex-CIA agent who uses his skills to save a young woman (Chloë Grace Moretz) from the Russian mob.
Denzel Washington said he was attracted to the great story about a flawed character. Actor Allen Maldonado praised director Fuqua's focus and attention to detail. Moretz was appreciative that her character wasn't sexualized, when so many young female characters are over-sexualized. Despite her character's profession, she said the audience only saw her outside of that so they saw more than what they would usually perceive her as. She had high praise for Denzel, saying that she learnt a lot from him both as an actor and a person.
And that winds up TIFF's first weekend. See you Monday!
TIFF Day Four Photo Galleries