40th Toronto International Film Festival Coverage: Day Five
Monday, September 14th, 2015 by Ian Evans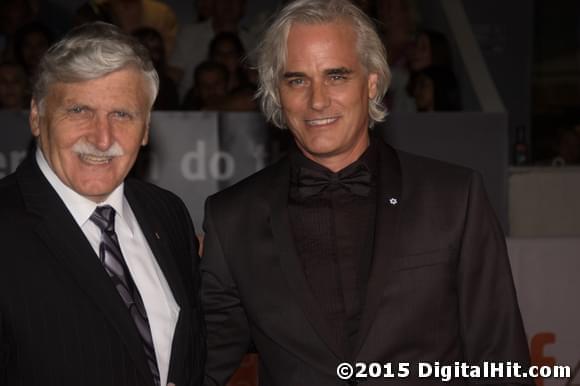 It's Day Five of the 40th Toronto International Film Festival. We're at the halfway point of TIFF and that's always a moment of dual emotion as 1) the fest is half over and the long days are almost done and 2) the fest is half over as are our days of film-watching fun.
We covered two premieres at Roy Thomson Hall today, The Dressmaker and Hyena Road.
In The Dressmaker, based on the novel by Rosalie Ham and directed by Jocelyn Moorehouse, Kate Winslet plays Tilly Dunnage, who was "exiled" from her conservative Australian hometown when she was ten. After spending years learning from the great fashion houses of Paris, she returns to take care of her mother (Judy Davis) and confronts her past. Liam Hemsworth plays her love interest. Given Tilly's love of fashion, it's only fitting (sorry) that Winslet rocked the red carpet in a curve-hugging grey dress.
The topic matter was much more serious for the next film, Hyena Road. Written and directed by its star, Paul Gross, the war drama follows the tension as Canadian troops battle the Taliban while trying to complete a crucial highway link in Afghanistan.
Speaking about Paul Gross' multiple jobs on the project, actress Christine Horne said that, "he's a really great actor and he's an actor-friendly director."
Gross thought it was an important story to tell, pointing out that "Canada was engaged in Afghanistan for longer than the First World War, Second World War and Korean War combined" and felt that the soldiers who fought and died there deserved some sort of legacy.
The Canadian public often have this concept that their armed forces are always on peacekeeping missions but the mission in Afghanistan was an active combat role and the story will probably be an eye-opener for many Canadians.
TIFF Day Five Photo Galleries