43rd Toronto International Film Festival Coverage: Day Ten
Saturday, September 15th, 2018 by Ian Evans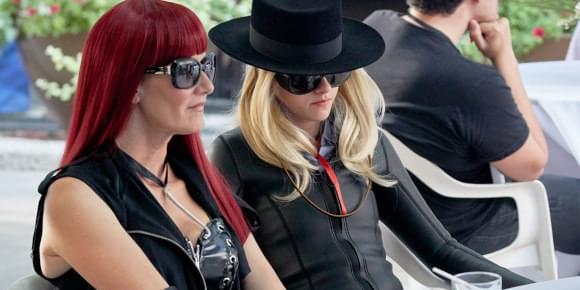 Jeremiah Terminator LeRoy courtesy of TIFF.
Day ten. Even though there are some screenings and an awards ceremony tomorrow, today is the day for the closing night gala. This year that honour goes to Jeremiah Terminator LeRoy, a true story directed by Justin Kelly. Laura Dern plays Laura Albert, an author who writes under the pseudonym JT LeRoy. She's created a whole persona for her pseudonym: JT is a teenage boy living a hard life as a truck stop sex worker. When the press clamour to meet JT, she gets her sister-in-law Savannah (Kristen Stewart) to don a wig and pretend to be the teenage writer. They got away with it for years. Dern's character says she was never really heard until she used a man's voice and Dern told press that the film is not just about identifying as a women but blurring the lines and asking if we need to identify at all.
And with that, the carpets are rolled up. After tomorrow's awards ceremony TIFF lovers will be in a state of withdrawal.