44th Toronto International Film Festival Coverage: Day Seven
Wednesday, September 11th, 2019 by Ian Evans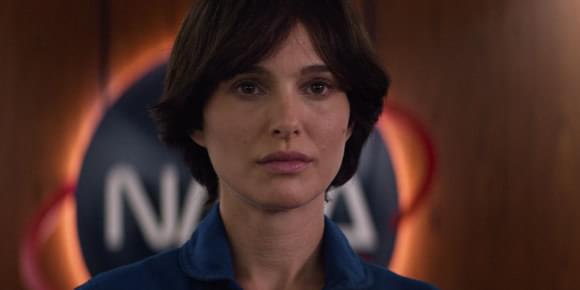 Lucy in the Sky courtesy of TIFF.
Day seven and I started off with a screening of Rupert Goold's Judy, which stars Renee Zellwegger as the amazingly talented, but sadly troubled, Hollywood icon, Judy Garland. Set in the last year of her life, Garland was labeled difficult to work with and was facing financial ruin that also led to a custody battle with ex-husband Sidney Luft over two of her children. She's offered a series of concerts in London and struggles to fulfill the contract, while also getting hitched to husband number five. Occasionally flashing back to the horrendous pressures she had working under Louis B. Mayer, whose studio gave her pills to stay thin, stay awake and go to sleep, the film gives us some insight into what made one of the world's best entertainers so fragile and prone to destructive behaviours. Zellwegger's performance is simply amazing but the script is a little shallow, giving us a big screen performance in a small screen movie. I'm still saying you have to see this one, despite the script's shortcomings: Zellwegger is that good.
I went from a biopic about an entertainment legend to a documentary about an infamous political figure. The Kingmaker tells the story of Imelda Marcos, the former first lady of the Philippines, who was beloved by some and hated by others. It's directed by Lauren Greenfield, who also made The Queen of Versailles. Marcos' husband, Ferdinand, was the country's president from 1965 until 1986 when they were ousted under a cloud of scandal that included accusations of lining their pockets with billions while their citizens lived in poverty and their potential involvement in the 1983 assassination of opposition leader Benigno Aquino. The film shows Marcos, who returned from exile in 1991, living in the Philippines and still acting as if she was the First Lady. Despite tables groaning under international lawsuits, Imelda sees herself as innocent and still has her hand in the country's political scene. I found her to be an awful public figure, so it's jarring to see scenes of people who have bought into her cult of personality.
The Burnt Orange Heresy started the night off at Roy Thomson Hall. Directed by Giuseppe Capotondi, the film stars Claes Bang, Elizabeth Debicki, Mick Jagger, and Donald Sutherland in an adaptation of Charles Willeford's noir novel about art theft, greed and murder. Director Justin Kurzel's True History of the Kelly Gang closed the night out at RTH. Starring George MacKay, Essie Davis, Nicholas Hoult, Orlando Schwerdt, Thomasin McKenzie, Sean Keenan, Charlie Hunnam and Russell Crowe, it tells the story of the legendary Australian outlaw Ned Kelly.
Meanwhile, the VISA Screening Room played host to Noah Hawley's Lucy in the Sky, which stars Natalie Portman as an astronaut whose trip to space suddenly changes her perspective, questioning her marriage to her gentle husband (Dan Stevens) and sending her into the arms of a fellow astronaut (Jon Hamm).