Joan Allen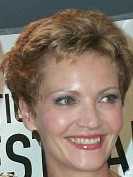 Check out our Joan Allen photo gallery.
Born: Aug. 20, 1956 Rochelle, Illinois, USA
[Please note that we are recovering from a bad database backup and some of our bio entries might be a bit stale. We are baking up a fresh batch as soon as possible.]
When The Contender premiered at the 25th Annual Toronto International Film Festival, director Rod Lurie said that he had written the film with Joan Allen in mind. He said he felt that Joan was the female Gregory Peck of her generation and that her own personal strength and integrity came through in the characters that she portrayed. Her 2001 nomination for a Golden Globe again shows the quality of her work.
Joan was born in Rochelle, Illinois on August 20th, 1956. When she wasn't able to make the cheerleading squad, Joan tried out for a play and found her true calling in performance. Her senior class voted her Most Likely to Suceed and she went on to study theater at Eastern Illinois University.
After graduating, Joan moved to Chicago where she became one of the founding members of its Steppenwolf Theatre Company along with Gary Sinise and John Malkovich. In 1985 she made her screen debut in a small role in Compromising Positions. The following year she landed roles in Manhunter and Peggy Sue Got Married.
She received good critical notices for those two roles, but she was really noticed a year later when she won a Tony award for her Broadway debut performance in Burn This. She earned a Tony nomination a year later for her performance in Wendy Wasserstein's The Heidi Chronicles.
With solid stage work under her belt, Joan started getting meatier film roles, including In Country with Bruce Willis, Ethan Frome (with Liam Neeson) and Searching for Bobby Fischer.
In 1995, she held her own opposite Anthony Hopkins in Oliver Stone's Nixon. Her portrayal of Pat Nixon earned her an Academy Award® nomination for Best Supporting Actress. A year later she received Best Supporting Actress nominations from both the Oscars® and the Golden Globes for her perfomance in The Crucible.
In 1997 she garnered more critical praise for her work in Ang Lee's The Ice Storm, a film which featured a fine ensemble cast including Kevin Kline, Sigourney Weaver, Christina Ricci, and Tobey Maguire. She went from that to a turn as John Travolta's wife in John Woo's action thriller Face/Off.
1998 saw her reteam with Tobey Maguire in the charming Pleasantville.
Joan teamed up with Jeff Bridges and Gary Oldman in 2000 for Rod Lurie's The Contender. At a Toronto International Film Festival press conference for the film, director Lurie said he loved Joan Allen's work, calling her the "female Gregory Peck". The role earned her an Academy Award® nomination for Best Actress.
She turned to TV in 2001, working on The Mists of Avalon mini-series and in 2003 she appeared in Off the Map.
In 2004, Allen appeared in The Notebook, Yes and The Bourne Supremacy. The following year, she appeared opposite Kevin Costner in The Upside of Anger.
In 2006, she starred with Jessica Lange and Kathy Bates in the road trip film Bonneville. She then appeared in the third Bourne film, 2007's The Bourne Ultimatum.
Her 12 year marriage to actor Peter Friedman ended in 2002. The couple has one daughter, Sadie.
As time progresses, we'll have more info about Joan Allen here. If you have any comments or suggestions about our coverage, please email us.