Bruce Willis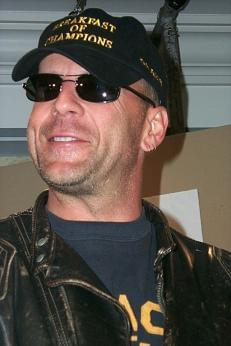 Check out our Bruce Willis photo gallery.
Born: Mar. 19, 1955 Idar-Oberstein, West Germany
[Please note that we are recovering from a bad database backup and some of our bio entries might be a bit stale. We are baking up a fresh batch as soon as possible.]
Bruce Willis' willingness to try different roles has enabled him to weather the ups and downs in his career.
The eldest child of an Army family, Bruce was born on a U.S. base in Idar-Oberstein, Germany on March 19, 1955. After his father left the military in 1957, they packed up and moved to New Jersey. Bruce was quite active in high school and besides appearing in several dramatic productions he also found time to get himself elected student council president.
He decided not to go directly to college after high school and started making a living driving the work crews at the nearby Du Pont factory. When a fellow driver was killed in an industrial accident, Bruce decided to leave his full-time job. Hanging around the local bars, Bruce not only strengthened his love of the blues but also began playing the harmonica in an R&B band called Loose Goose.
Willis also revived his studies in theater and started classes in the drama program at Montclair State College. With some good notices behind him, Bruce started heading to New York for Off-Broadway auditions. Feeling confident he eventually left the college and rented a tiny apartment in Manhattan.
Like all actors starting out, Bruce needed to pay the bills and landed a job tending bar at Cafe Central, an actors' hangout. He landed a role in the off-Broadway production of Heaven and Earth, but his big break came in 1984 when he replaced Will Patton in Sam Shepard's Fool for Love. A casting director saw him in that show and he landed a guest role on Miami Vice playing a gunrunner.
In 1985, Willis went out to L.A. to audition for a part in Madonna's Desperately Seeking Susan. He didn't get the role but his trip did put them in the right place at the right time. Willis and 3,000 other guys read for the part of David Addison in the new show Moonlighting. Despite objections from ABC that he was unknown, producer Glenn Gordon Caron cast him opposite Cybil Sheperd. Their chemistry was hot and the ratings for the show were even hotter. However, all was not perfect on the set and the pair of actors often fought offscreen. This gave Willis his first taste of being tabloid fodder.
1987 was a both a good year and a bad year for Willis. He had a Las Vegas wedding to actress Demi Moore and a poorly received film debut in Blake Edwards' Blind Date. He silenced the critics in 1988 when he starred in the action hit Die Hard playing a heroic cop named John McClane. He voiced a wise-cracking baby in 1989's Look Who's Talking but didn't really hit it huge again until he started shooting the bad guys again in 1990's Die Hard 2.
Bruce didn't want to be stuck playing smart-mouthed versions of roles that would normally go to Stallone or Schwarzenegger. He tried to break out of the mold but bombed three times in Bonfire of the Vanities, Billy Bathgate and Hudson Hawk. In 1991, he returned to the action genre with The Last Boy Scout which restored some lustre to his box office clout but again bombed three times with Death Becomes Her, Striking Distance and North.
When 1994 arrived, Willis was in need of some career fixing. He tapped the same magic fountain as John Travolta and received great critical notices and audience attention for a supporting role in Pulp Fiction. He took another supporting role in Nobody's Fool and that too was well-received.
With two strong performances behind him, Willis was again ready to take the weight of a film on his shoulders and hit it big at the box office with Twelve Monkeys and Die Hard With a Vengeance. Even though Luc Besson's The Fifth Element wasn't a huge hit in North America it did do roughly triple the business in the rest of the world, proving that Bruce was able to reach an international audience.
In June of 1998, Bruce Willis and Demi Moore parted ways.
Like Travolta, Willis seems to have strapped himself into a roller coaster. Films like The Jackal and The Seige have done poorly for him but then he erases those memories with 1999's smash hit The Sixth Sense which owned the box office for several weeks. Even then, The Story of Us received a lukewarm reception and Breakfast of Champions, which he helped finance, never even made it on people's radar. Still, going from a explosive-ridden action flick like Armageddon to a more experimental film like Breakfast of Champions does show that Willis is willing to cover the spectrum.
Willis kept himself busy in 2000, appearing in the comedies The Whole Nine Yards and Disney's The Kid as well as teaming up with Sixth Sense writer/director M. Night Shyamalan to make Unbreakable.
In 2001, Willis made Bandits with co-stars Billy Bob Thornton and Cate Blanchett and appeared in Hart's War with Colin Farrell and Terrence Howard in 2002. That same year, he also appeared in Grand Champion and True West.
In 2003, Willis starred in Tears of the Sun with Monica Bellucci, voiced Spike in Rugrats Go Wild, and made an uncredited appearance in Charlie's Angels: Full Throttle. That film featured ex-wife Demi Moore, which only goes to prove that the pair have one of the healthiest post-divorce relationships in Hollywood.
The following year, Bruce reteamed with Matthew Perry for The Whole Ten Yards. 2005 saw him in Hostage, which costarred daughter Rumer Willis, and Sin City, whose cast featured Clive Owen, Benicio Del Toro, Jessica Alba, Alexis Bledel, Rosario Dawson, Brittany Murphy and Mickey Rourke.
Willis had a very busy 2006. He was in Nick Cassavetes' Alpha Dog, Lucky Number Slevin with Josh Hartnett, 16 Blocks with Mos Def, joined the voice cast of the animated Over the Hedge with Garry Shandling, Steve Carell and Wanda Sykes, and was part of Fast Food Nation's ensemble cast.
2007 saw Bruce in the Quentin Tarantino/Robert Rodriguez flick Grindhouse, teamed with Halle Berry in Perfect Stranger and teamed with Justin Long as he revisted the role that made him a superstar, John McClane, in Live Free or Die Hard.
In 2008, he played Principal Kirkpatrick in Assassination of a High School President with Mischa Barton and worked with Robert De Niro, Sean Penn, and Kristen Stewart in What Just Happened.
Bruce married model Emma Heming in March 2009. Again, showing the healthy relationship they've maintained for their children, the ceremony was attended by ex-wife Demi Moore and her husband, Ashton Kutcher. That same year, he starred in Surrogates with Radha Mitchell and Rosamund Pike.
Willis had a busy 2010. He starred with Tracy Morgan in the action-comedy Cop Out, did a cameo as Mr. Church in the action star-packed Sylvester Stallone film The Expendables, appeared in Joaquin Phoenix's mockumentary I'm Still Here and joined RED's ensemble cast of Morgan Freeman, John Malkovich, Mary-Louise Parker and Helen Mirren. The following year he worked with Curtis "50 Cent" Jackson and Ryan Phillippe in Setup and with Forest Whitaker and Malin Akerman on Catch .44.
Willis was seen multiple times in 2012. He worked with Vince Vaughn and Catherine Zeta-Jones in Lay the Favorite, did the action-thriller The Cold Light of Day with Sigourney Weaver and Henry Cavill, the Wes Anderson comedy Moonrise Kingdom, the action sequel The Expendables 2, the drama Fire with Fire and the sci-fi film Looper with Joseph Gordon-Levitt and Emily Blunt.
In 2013, Bruce once again played John McClane in A Good Day to Die Hard, did G.I. Joe: Retaliation opposite Dwayne Johnson and Channing Tatum and did the sequel RED 2. The following year, he worked with Jason Patric and John Cusack on The Prince and appeared in Sin City: A Dame to Kill For.
Willis started off 2015 with the sci-fi film Vice.
As time progresses, we'll have more info about Bruce Willis here. If you have any comments or suggestions about our coverage, please email us.