Kevin Zegers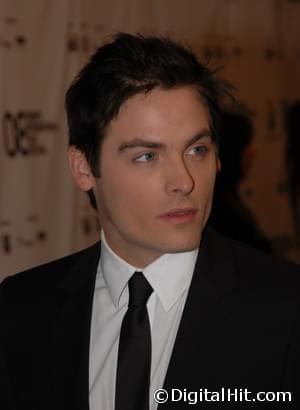 Check out our Kevin Zegers photo gallery.
Born: Sept. 19, 1984 Woodstock, Ontario, Canada
[Please note that we are recovering from a bad database backup and some of our bio entries might be a bit stale. We are baking up a fresh batch as soon as possible.]
Kevin Joseph Zegers was born in Woodstock, Ontario, Canada on September 19th, 1984. Zegers began acting in commercials when he was six years old and then moved on to bigger acting projects.
After appearing on an episode of the Canadian series Street Legal in 1992, Zegers landed his first film role, appearing in 1993's Life with Mikey which starred Michael J. Fox.
In 1995, Zegers worked on The Mouth of Madness with Sam Neill, appeared with Kate Jackson in The Silence of Adultery, and played a young boy suffering from stigmata in an episode of The X Files with David Duchovny and Gillian Anderson. The following year, he appeared in Specimen with Mark-Paul Gosselaar and landed a role on the Canadian series Traders.
In 1997, Zegers played opposite a basketball playing dog in Air Bud. Apparently cornering the sports-playing animals market, he would later star in 1998's Air Bud: Golden Receiver, 2000's Air Bud: World Pup and MVP: Most Valuable Primate, and 2002's Air Bud: Seventh Inning Fetch.
When not involved in the canine sports world, Zegers continued to rack up credits in film and TV. 1998 saw him in Nico the Unicorn and Shadow Builder. In 1999, he starred opposite Jack Palance in Treasure Island, worked with Colm Meaney and Lolita Davidovich on Four Days, and appeared with Jill Hennessy in Komodo.
Along with Casper Van Dien and Yasmine Bleeth, Kevin then starred in the short-lived series Titans, which debuted in 2000. From there he was seen in Fear of the Dark and Virginia's Run in 2002 and Wrong Turn with Emmanuelle Chriqui in 2003. In 2004, Zegers starred in Dawn of the Dead with Sarah Polley and Ving Rhames, Some Things That Stay with Katie Boland and The Hollow with Kaley Cuoco.
His profile was raised in 2005 when played opposite Felicity Huffman in the critically-acclaimed Transamerica. He then worked with Tim Allen and Courteney Cox on the family superhero film Zoom and body-swapped with Samaire Armstrong in It's a Boy Girl Thing.
In 2007, Kevin appeared in The Jane Austen Book Club with an ensemble cast that featured Maria Bello, Emily Blunt, Hugh Dancy, Jimmy Smits and Lynn Redgrave. That same year, he also starred in Normal with Carrie-Anne Moss and The Stone Angel with Ellen Burstyn and Elliot Page. Keeping busy in 2008, Zegers made Gardens of the Night, The Narrows and Fifty Dead Men Walking with Jim Sturgess and Sir Ben Kingsley.
As time progresses, we'll have more info about Kevin Zegers here. If you have any comments or suggestions about our coverage, please email us.