Salma Hayek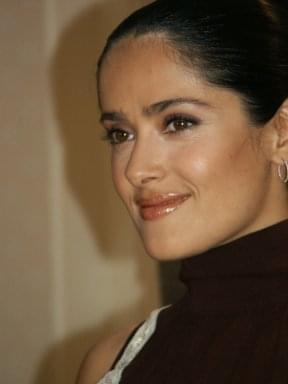 Check out our Salma Hayek photo gallery.
Born: Sept. 2, 1966 Coatzacoalcos, Veracruz, Mexico
[Please note that we are recovering from a bad database backup and some of our bio entries might be a bit stale. We are baking up a fresh batch as soon as possible.]
Latina actress Salma Hayek's sexiness is inversely proportional to her size. Her appearance in corseted 19th century undergarments made the Wild Wild West just a little bit wilder.
Salma was born in Mexico and owes her exotic looks to the Lebanese and Spanish roots of her father and mother. Though she initially went to college to study international relations, she finally decided to follow her dreams and plunge into the world of acting.
She worked a bit in the local theater scene before landing a small role in a Mexican soap entitled Nuevo Amanecer. With just a few credits to her name, Hayek managed to land the title role in another serial, Teresa. Suddenly Salma Hayek found herself on of the most loved actresses in Mexico.
Rather than settle into the stardom she had, Salma decided to risk it all by moving to Los Angeles in 1991 and starting over again. She worked hard to get going and took intensive acting and English lessons. In 1993 she got her first break. Though she didn't get the large role she wanted in Allison Anders' Mi Vida Loca, she did impress the director enough that she landed a smaller role which also qualified her for membership in the Screen Actors Guild.
Hayek managed to line up a few smaller TV roles but an appearance on a cable access talk show caught the attention of Mexican-American director Robert Rodriguez, who had shot into the limelight with his low-budget El Mariachi. He fought to have her co-star opposite Antonio Banderas in his next feature, Desperado. Hayek earned rave reviews for her steamy performance.
Hayek then appeared in Fled and Fair Game, but didn't generate the heat in those flicks that she did in Robert Rodriguez's From Dusk 'Til Dawn, where she played a vampire stripper. In 1997 she landed her first lead role opposite Matthew Perry in Fools Rush In.
She turned up the heat again as Esmerelda in the TV version of The Hunchback opposite Mandy Patinkin. She appeared in the teen horror The Faculty and the horrible disco flick 54. Wild Wild West had a huge publicity machine working for her and Will Smith, while Kevin Smith's Dogma, which also starred Matt Damon and Ben Affleck, generated its own publicity through church opposition.
In 2002, Salma did a heavy publicity push for the film Frida, which she also produced.
Hayek was nominated for a Golden Globe in 2002 for her role in Frida.
As time progresses, we'll have more info about Salma Hayek here. If you have any comments or suggestions about our coverage, please email us.