Alice in Wonderland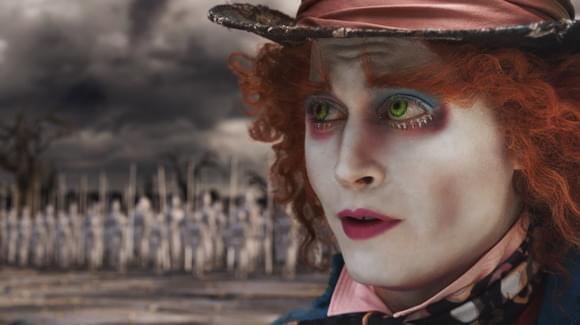 Photo: (c)Disney Enterprises, Inc. All Rights Reserved.
Director(s): Tim Burton
Writer(s): Linda Woolverton
Cast: Johnny Depp, Mia Wasikowska, Helena Bonham Carter, Anne Hathaway, Crispin Glover, Matt Lucas, Michael Sheen, Stephen Fry, Alan Rickman and Barbara Windsor
Lewis Carroll's Alice in Wonderland was always an off-kilter piece of children's literature, which has introduced many a child to a bizarre world and fanciful wordplay. It's seems only fitting that Tim Burton, the man who brought us Edward Scissorhands, The Nightmare Before Christmas and Beetlejuice, would be attracted to this story. Says Burton, "In any fairy-tale land there is good and bad. What I liked about Underland is that everything is slightly off, even the good people. That, to me, is something different."
Walt Disney Pictures teamed up with the director to create the 3D adventure, which re-teams the director with his frequent muse, Johnny Depp and gives us an Alice in the form of relative newcomer Mia Wasikowska. The cast is rounded out by a cast that features the performances of Anne Hathaway, Helena Bonham Carter, Crispin Glover, Matt Lucas, Michael Sheen, Stephen Fry and Alan Rickman.
The Alice stories have been a part of popular culture since their first printings in the 1800's. They've been told and retold a hundred ways, but Anne Hathaway, who portrays the White Queen, doesn't see that as a problem. "One of the reasons why Lewis Carroll's characters work so well in cinema is because they're wildly imaginative and there's no one way to interpret them," she says. "Because Lewis Carroll played around with words and concepts, and because the characters appeal to the imagination, I feel there are as many interpretations as there are imaginations in the world. It depends on what your take is."
Screenwriter Linda Woolverton has created a post-war world that a 19-year-old Alice returns to ten years after her last visit. The fanciful characters she met then are still there, but this time they're revolutionaries fighting against the evil Red Queen. Burton liked the fact that Alice had been advanced a few years. "What I liked about this take on the story is Alice is at an age where you're between a kid and an adult, when you're crossing over as a person," says the director. "A lot of young people with old souls aren't so popular in their own culture and their own time. Alice is somebody who doesn't quite fit into that Victorian structure and society. She's more internal."
"What Linda has done is fashion a story with an emotional context for the film's events to occur," says Helena Bonham Carter, who portrays the Red Queen. "In this, there's a point to the whole story and a journey for Alice."
Wasikowska, the young actress who plays Alice sees Alice journey as both physical and personal. "In the beginning, Alice is very awkward and uncomfortable in her skin. So her experience in Underland is about reconnecting with herself and finding she has the strength to be more self-assured in figuring out what she wants."
Producer Richard Zanuck says Depp was the right man to fill the Hatter's, well, hat, in a role that is expanded more than is in the books. "He has an ability for transformation that is fabulous. There's no one who can do these crazy, offbeat, eccentric characters like Johnny can. He has a way of being funny and crazy, yet poignant. He's one of the world's great actors; he takes bigger chances than any other male star."
Depp dove into the character with his usual fearlessness. "It was a real challenge to find something different, to define the Mad Hatter in terms of cinema," he says. "One of the things Tim and I talked about early on, is the idea that he would be so pure, in the sense that you see, instantly, what he's feeling — so much so that his clothes, his skin, his hair, everything, reflects his emotion. So when he's beaming, you get this kind of bright effect and everything comes to life, like a flower blooming, very, very quickly. He's like a mood ring. His emotions are very close to the surface."
If you want to meet the Hatter, follow Alice down the rabbit hole and then let the Chesire Cat lead the way when Alice in Wonderland opens in 3D on March 5th, 2010.
Read our review.