Bridge of Spies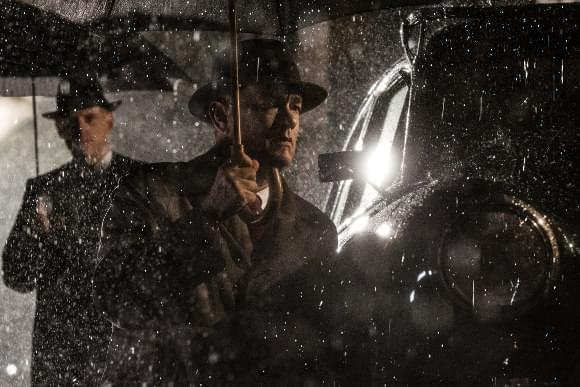 Photo: Jaap Buitendijk ©DreamWorks II Distribution Co., LLC and Twentieth Century Fox Film Corporation
Director(s): Steven Spielberg
Writer(s): Matt Charman, Ethan Coen and Joel Coen
Cast: Tom Hanks, Mark Rylance, Scott Shepherd, Amy Ryan, Sebastian Koch, Alan Alda, Austin Stowell, Mikhail Gorevoy and Will Rogers
Release Date(s)
Oct 16, 2015 - Wide
Read our review.
Director Steven Spielberg teams up once again with actor Tom Hanks to bring us Bridge of Spies, a drama about a real-life spy exchange negotiated by a Brooklyn insurance lawyer. That part of the Cold War era, shortly after U-2 spy plane pilot Gray Francis Powers was shot down over the Soviet Union, connects to a personal story for Spielberg's family.
"My father had gone to Russia during the Cold War on a foreign exchange right after Francis Gary Powers was shot down," said Spielberg. "My dad and three other associates from General Electric stood in line because they were putting Powers' flight suit, helmet and the remains of the U-2 on display for everybody in Russia to see what America had done. He was about an hour away from the front of the line when a couple of Russian military officials approached my dad and asked for their passports, saw they were Americans and got them to the head of the line, not to convenience them, because after they got to the head of the line this Russian pointed to the U-2 and then pointed to my dad and his friends and said, 'Look what your country is doing to us,' which he repeated angrily several times before handing back their passports. I never forgot that story and because of that I never forgot what happened to Francis Gary Powers."
Like many people growing up in that era, Spielberg was aware of events that were sensationally covered in the media but not the quieter negotiations that saved lives.
"As a youngster growing up in the '50s and '60s, I had a tremendous amount of awareness of what was happening during the Cold War, but I didn't know anything about the exchange of Rudolf Abel for Francis Gary Powers," said the Oscar-winning director. "I knew about Powers because growing up everyone had heard that his U-2 spy plane had been shot down and that he had been put on public display at a very public trial, but the story kind of ended with a spectacular shoot down. I didn't realize that something had happened subsequent to his capture, which was this very backroom exchange, this spy swap between Abel, a Soviet spy, and Powers, the American spy pilot. So there was a lot to this story that really pulled me in."
Matt Charman wrote the screenplay along with Joel and Ethan Coen and Spielberg knew the Coen brothers' unique voice was right for the piece. "Joel and Ethan got us very, very deep into the characters," said Spielberg. "They really instilled a sense of irony and a little bit of absurd humour, not absurd in the sense that movies can take license and be absurd, but that real life is absurd. They are great observers of real life, as we all know from their great august body of work, and were able to bring that to the story."
Tom Hanks, a dedicated history buff, says he lucked out with this role. "This subject matter has always fascinated me, because of the area and because of the time," said Hanks. "I knew that Francis Gary Powers was a U-2 pilot who was shot down by the Soviet Union, that it was a huge international incident and that there was a trade that got him back, but I didn't know any of the details or who James Donovan was. I love reading history and finding out something brand new – particularly about a subject that I think I'm well versed in – and when that happens, man, it's like winning the lottery."
As an audience member, you'll win the lottery too as you spend time crossing the Bridge of Spies when it is released on October 16th, 2015.
Read our review.