Minority Report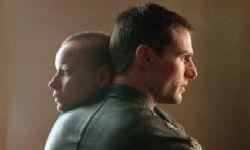 Photo: Photo credit: David James TM and © 2002 Twentieth Century Fox and DreamWorks L.L.C.
Director(s): Steven Spielberg
Writer(s): Scott Frank and Jon Cohen
Cast: Tom Cruise, Colin Farrell, Samantha Morton, Max von Sydow, Lois Smith, Kathryn Morris, Tim Blake Nelson, Peter Stormare and Neal McDonough
Release Date(s)
Jun 21, 2002 - Wide
Read our review.
Steven Spielberg's Minority Report is an action film with a brain…not surprising considering it's based on a story by Philip K. Dick, whose writing also inspired Blade Runner and Total Recall.
Set in Washington, D.C. in 2054, the film follows John Anderton (Tom Cruise), Chief of the Pre-Crime unit which uses the psychic abilities of three Pre-Cogs to arrest people for murders they will commit in the future – before they commit them.
When the success of the program sees it readied for a national rollout, Anderton and his boss (Max von Sydow) must deal with a federal agent (Colin Farrell) who may take the program away from them. When the Pre-Cogs foresee a new murder, this one to be committed by Anderton, the policeman must fight friends and foes alike to prove he's innocent of a crime he's yet to commit. With the help of the female Pre-Cog Agatha (Samantha Morton), Anderton must go underground in a society where privacy has rapidly evaporated.
Combining dazzling special effects, gritty sets, and elements of classic detective fiction, Spielberg has created a futuristic Washington where citizens are bombarded by personalized advertising messages on a constant basis. The successful director wanted the society to be rooted in plausible technologies and societal change, so he assembled a think tank composed of the top minds in technology, law enforcement, medicine, transportation and social services and asked them to help him envision life five decades from now.
The gradual loss of privacy was a near unanimous prediction according to screenwriter Scott Frank. "The reason is not so people can spy on you," explains Frank, "but so they can sell to you."
In a movie season that's usually filled with "popcorn" movies, it's nice to see one with a little meat and potatoes.
Read our review.