Signs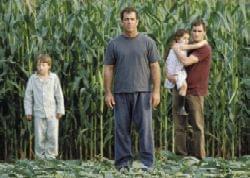 Photo: © Touchstone Pictures. All rights reserved.
Director(s): M. Night Shyamalan
Writer(s): M. Night Shyamalan
Cast: Mel Gibson, Joaquin Phoenix, Rory Culkin, Abigail Breslin, Cherry Jones, M. Night Shyamalan and Patricia Kalember
Everything that farmer Graham Hess (Mel Gibson) assumed about the world is changed when he discovers a message – an intricate pattern of circles and lines – carved into his crops. As he investigates the unfolding mystery, what he finds will forever alter the lives of his brother (Joaquin Phoenix) and children (Rory Culkin, Abigail Breslin). Writer-director M. Night Shyamalan Signs explores the mysterious real-life phenomena of crop signs and the effects they have on one man and his family.
The young filmmaker has already garnered high praise from his producers. Executive producer Kathleen Kennedy says that he already has a unique signature and likens it to "a kind of Hitchcock style of filmmaking to which he brings a kind of modern sensibility because he is still only 31 years old. Over his past few films, he's really defined a Night Shyamalan movie. People will recognize his style immediately."
Producer Frank Marshall agrees and adds, "Night covers a lot of different elements in his writing and there are a lot of different layers to his stories."
Shyamalan says his films do have a common thread in that they incorporate elements of the supernatural to tell the story of regular people working through an emotional struggle. However, he clarifies, "for me, supernatural things are all metaphors for the human story." They serve as devices for "testing people and finding out what people are made of and getting people to say what they need to say to their loved ones. It's a kind of costume to reveal what's true about the movie."
Read our review.