The Village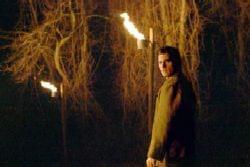 Photo: ©2004 Touchstone Pictures. All rights reserved.
Director(s): M. Night Shyamalan
Writer(s): M. Night Shyamalan
Cast: Joaquin Phoenix, Bryce Dallas Howard, Adrien Brody, William Hurt and Sigourney Weaver
Release Date(s)
Jul 30, 2004 - Wide
Read our review.
In M. Night Shyamalan's The Village, a forest that contains dangerous creatures surrounds the community. There's an uneasy truce between the villagers and the creatures. If the villagers don't enter the forest, the creatures won't enter the village.
Writer/director M. Night Shyamalan worked hard to create the sense of a tight-knit community. He put his cast through a "boot camp" of the nineteenth century life they would be portraying. They wore their wardrobe, did their chores and helped prepare communal meals. Night had the actors agree to this three-week experience before he cast them.
"I wanted to form a real community of people where they needed to rely on one another for survival. I didn't just want to do my version of this movie. I wanted to be surprised. I wanted to be entertained. I wanted to come to work and not know what was going to happen, and the only way that is going to happen is if the actors are in it with me, standing right beside me."
The director felt that this process would help the actors portray a close-knit isolated community that was bound by a shared fear. He explains that "No matter how independent we are or think we are, people need people and a sense of community. We crave it. Crave to be part of something bigger than us."
The cast was lectured on life in a communal setting and a psychologist helped the cast understand the post traumatic stress that can occur when violent acts happen.
Producer Sam Mercer said the process helped the actors gain a hold on their characters. "During this prep period, the cast began organically taking on their personas of their characters. Joaquin would become this slight loner from the group like his Lucius character. Adrien would be more loose and frantic like Noah's role. William, who plays town leader, Edward Walker, would give advice and lead the group. The comfort factor was so established for the cast that when the cameras rolled it already felt familiar and cohesive."
Associate producer Jose Rodriguez agrees the process was helpful, adding, "These A-list actors were suddenly at the mercy of the elements. No five-star hotel to run to. The challenge of the day shifted to things like if I want to be warm I have to make my own fire. Night was right there with the actors during this boot camp process, rehearsing and discussing their characters."
You can see the results of this boot camp process when M. Night Shyamalan's The Village opens on July 30th, 2004.
Read our review.