Alexander and the Terrible, Horrible, No Good, Very Bad Day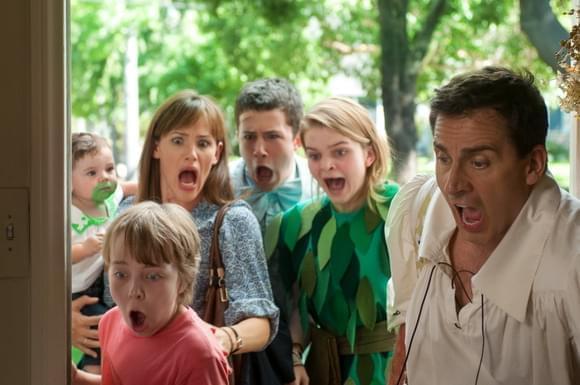 Photo: Photo by: Dale Robinette. ©2013 Disney Enterprises, Inc. All Rights Reserved.
Director(s): Miguel Arteta
Writer(s): Rob Lieber
Cast: Steve Carell, Jennifer Garner, Dylan Minnette, Bella Thorne, Ed Oxenbould, Kerris Dorsey, Megan Mullally, Jennifer Coolidge, Zoey Vargas and Elise Vargas
Reviewed by: Ian Evans on
Release Date(s)
Oct 10, 2014 - Wide


Alexander and the Terrible, Horrible, No Good, Very Bad Day, based on the 1972 children's book by Judith Viorst, follows the exploits of an 11-year-old boy (Ed Oxenbould) who feels left behind by his eternally upbeat family.

So on the eve of his 12th birthday, Alexander wishes on a sundae that his family could experience the sort of mishap-filled day that is his usual lot in life. So cheerful Ben Cooper (Steve Carell), an unemployed aeronautical engineer, has a disastrous interview for a new job. His wife, Kelly (Jennifer Garner), faces an embarrassing emergency at a children's book launch. Big brother Anthony (Dylan Minnette) faces a crisis in his high-maintenance relationship with Celia (Bella Thorne), while big sister Emily (Kerris Dorsey) learns not to self-medicate before performing Peter Pan. And poor baby Trevor (twins Zoey and Elise Vargas) suffers the loss of a favourite pacifier and a losing battler with a green marker.

Alexander and the Terrible, Horrible, No Good, Very Bad Day (thank you, cut-n-paste) is a series of escalating mishaps strung together with not much consequence and an ending neatly done up with a bow like the presents awaiting Alexander.

Will Alexander remember what happened on his birthday? Probably. Will we remember this film? Not so much. I don't think too many scenes from it will feature in a retrospective if Steve Carell gets honoured with an AFI tribute one day.

Does that make it a bad film? No. Screenwriter Rob Lieber and director Miguel Arteta have given us that passable type of family film that will have young ones laughing at puke and poop jokes. Parents will be able to use it to pass the time on weekends, but only when it's raining and more exciting outdoor activities are unavailable.

Carell, Garner and the gang give good performances. They're not just cashing cheques here, but there's nothing stellar happening either. However appearances by Jennifer Coolidge, Megan Mullally and Dick Van Dyke make the most of their limited screen time.

So while it's not a terrible, horrible, no good, very bad film, neither is it a memorable, captivating, no faults, very good one.