Alice in Wonderland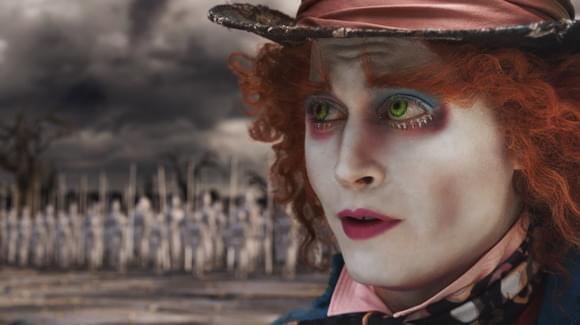 Photo: (c)Disney Enterprises, Inc. All Rights Reserved.
Director(s): Tim Burton
Writer(s): Linda Woolverton
Cast: Johnny Depp, Mia Wasikowska, Helena Bonham Carter, Anne Hathaway, Crispin Glover, Matt Lucas, Michael Sheen, Stephen Fry, Alan Rickman and Barbara Windsor
Reviewed by: Ian Evans on
Release Date(s)
Mar 5, 2010 - Wide


Lewis Carroll's Alice in Wonderland is one of those everlasting stories that, like Dickens' A Christmas Carol, has been imagined, re-imagined, remixed and mashed up hundreds of times. Tim Burton, a director known for his fanciful visions, may be one of the only filmmakers who can make the story appear fresh.

In Burton's Alice In Wonderland, Alice (Mia Wasikowska) is a 19-year-old facing an engagement to a simpering fop. While running from the garden party thrown for the occasion, she spies a white rabbit and follows after him, falling down the rabbit hole into a world that seems oddly familiar to her. There we discover that the inhabitants of this land — talking rabbits, smoking caterpillars and smiling cats — view Alice as their only hope to defeat the evil Red Queen and restore the crown to the benevolent White Queen. Some of the inhabitants question whether this is the Alice they once knew, while Alice denies that she can kill the Jaberwock to save them. When Alice befriends the Mad Hatter (Johnny Depp) and he is captured, Alice realizes that her path down the rabbit hole is leading her to some heroic exploits.

Carroll's Wonderland (or Underland as its inhabitants call it here) could be pretty dark when it came to children's literature and Burton has taken it a shade darker. Underland is in a post-war gloom, a landscape that appears to have been the victim of a scorched earth policy in battle. Whereas Carroll's Hatter and March Hare were bizarre and off-kilter, Burton's creations are truly verging on a post-traumatic stress brand of dementia. Burton's world, though fanciful, still feels real and the Real-3D imagery only enhances that by bring the viewer inside that world.

If Underland is a mad house, then the characters inside it need to be equally mad and Burton doesn't disappoint here. Even a little mouse has a larger than life character. Depp, a favourite muse for Burton, again shows his fearlessness in creating a person we can believe in, no matter how mad he might be. Depp's Hatter teeters on the brink, at one minute bold enough to trade words with the Knave of Hearts (Crispin Glover) and at the next moment displaying a fragility has he remembers his time in the court of the White Queen (Anne Hathaway).

Helena Bonham Carter is deliciously vile as the Red Queen, a violent and vain monarch with an oversized head who isn't sure if it's best to be loved or feared. Her courtiers are toadies, and in fact some are toads, and this is a ruler who has never been told the truth by anyone. She's as mad as, well, as mad as a hatter, and what makes her even more scary and off-putting is the realization that some despots in reality have been as quick to execute on a whim as she is.

The characters around Alice are voiced by a bevy of great performers. Alan Rickman's delivery is perfectly "altered" as the hookah-smoking Blue Caterpillar, Stephen Fry is sly and mischievous as the Chesire Cat and a digitally shrunk Matt Lucas (of Little Britain fame) does double duty as the twins Tweedledum and Tweedledee. Crispin Glover is creepy and vicious as Stayne, the Knave of Hearts while Anne Hathaway's slightly off-kilter White Queen is the benevolent deposed monarch in a land where even the good are slightly demented. Finally, the legendary film villain Christopher Lee voices the Jabberwock.

All this madness needs a strong centre and newcomer Mia Wasikowska gives us an Alice with some backbone, whether she's bucking convention in Victorian England or battling a nasty deck of cards in Underland.

Despite it's whacked out fantasy and colourful wordplay, Burton's Underland comes off as a real place because the characters are grounded in their own reality. In fact, the only jarring moment for me was at the end of the film, when a bland, generic end credit song from Avril Lavigne pulled me back into the realities of movie marketing.