Aloha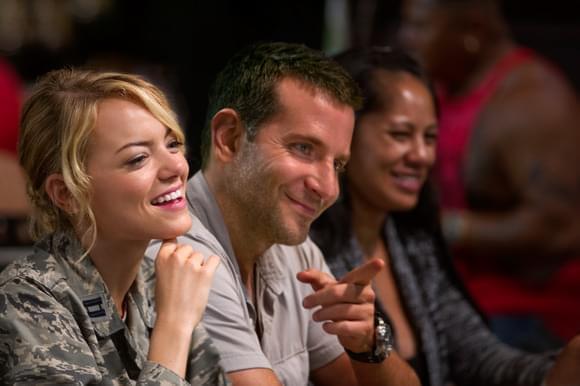 Photo: ©2015 Sony Pictures
Director(s): Cameron Crowe
Writer(s): Cameron Crowe
Cast: Bradley Cooper, Emma Stone, Rachel McAdams, Bill Murray, John Krasinski, Danny McBride, Alec Baldwin, Bill Camp, Jaeden Lieberher, Danielle Rose Russell, Michael Chernus and Edi Gathegi
Reviewed by: Ian Evans on
Release Date(s)
May 29, 2015 - Wide


Cameron Crowe — the writer-director who brought us Say Anything, Almost Famous and Jerry Maguire — brings us such a cinematic mess in Aloha that he should reimburse us for cleaning.

Bradley Cooper plays Brian Gilcrest, a celebrated U.S. Air Force Space Command vet who now works as a military contractor for billionaire Carson Welch (Bill Murray), a charismatic figure who believes that money can buy and control everything. Welch is getting into the private space business and sends Gilcrest ahead to Hawaii to make a deal with the locals to allow a new addition to Hickam Air Force Base.

Upon arrival, Gilcrest is greeted by his old buddy Colonel 'Fingers' Lacy (Danny McBride), now the base commander and assigned a minder to guide him around. His minder is Allison Ng (Emma Stone) an officious and overly eager F-22 pilot who initially irritates Gilcrest with her constant questions. Gilcrest is also reunited with Tracy (Rachel McAdams), an old flame who is now married to quiet, repressed transport pilot John 'Woody' Woodside (John Krasinski). While dealing with the Hawaiian people and preparing for the satellite launch, Gilcrest must also deal with his emotions and place in this world.

The last two paragraphs might lead you to believe that this is a story of a man rediscovering himself and his roots. It might sound like the makings of a love triangle or maybe even a romantic comedy. In fact, it's just my best attempt at ascribing a plot to this venture. The marketing materials may in fact feature photos of Cooper, Stone and McAdams in triangular shapes like an assignment from Subliminal Messaging 101, but there's no hint of triangular romantic heat or conflicts here. Gilcrest and Ng do hook-up, but they go from irritation to "I need you" love so fast that either speed limits were broken or explanatory scenes were cut. The amount of angst is such that I half-expected John Cusack's Say Anything character to show up and lend Cooper his boom box and Peter Gabriel mix-tape. Gilcrest's relationship with Tracy is mostly rehashing the past while making dinner and with a name like "Woody" Woodside, how much more telegraphing do we need that John Krasinski's character doesn't communicate feelings well?

There have been some complaints that Aloha whitewashes Hawaii — from looking at the cast it'd be hard to realize that the islands are only 30% Caucasian — and I'm not sure what Hawaiian sovereignty activist Dennis "Bumpy" Kanahele is doing in the film. Stone's character keeps reminding us that she's 25% native Hawaiian. There are some discussions of the skies belonging to everyone, a few Hawaiian sovereignty movement flags, and Kanahele wears a "Hawaiian by birth. American by force." t-shirt, but in the end there's no real resolution or reason for bringing this up.

Cooper does his best to deliver clunky lines and earnest declarations of love but again there's no real background to how a kid who dreamed of space turned into a contractor with some questionable incidents in the past. Stone goes from an overeager pilot with clipped delivery to a musical montage-ready romantic interest with a mystical edge again without an transition time. McAdams does her best to play the hurt and conflicted mother/ex-girlfriend. Krasinski doesn't have anything to do except stand tall and be quiet. Danny McBride has the least comical role of his career and an unneeded tic. Alec Baldwin got paid to play a character that's basically one big yell and Bill Murray was apparently told that his character was actually in a Wes Anderson film.

The film's stapled-on space plot ends with a physics-defying incident and a plot revelation that defies what you can sneak onto a secure military base. The past relationship plot ends with a familial moment that makes no sense given that one of the characters wasn't notified of the issue, at least while the audience was watching. It appears that the film's largest budget expenditure was for bows to neatly tie up the various story threads.

Apparently former Sony Pictures co-chair Amy Pascal complained that the film made "no sense" in the emails that were leaked earlier this year during the cyberattack. This is so self-evident that the audience needs no help from the North Koreans to know that Aloha is a clunker.