Birdman or (The Unexpected Virtue of Ignorance)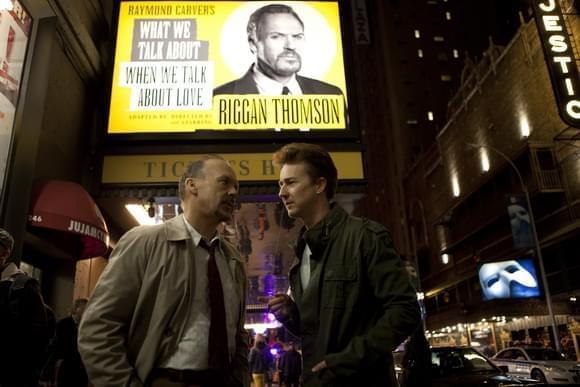 Photo: © 2014 Fox Searchlight Pictures
Director(s): Alejandro González Iñárritu
Writer(s): Alejandro González Iñárritu, Nicolás Giacobone, Alexander Dinelaris Jr. and Armando Bo
Cast: Michael Keaton, Zach Galifianakis, Edward Norton, Andrea Riseborough, Amy Ryan, Emma Stone, Naomi Watts, Lindsay Duncan, Merritt Wever, Jeremy Shamos, Bill Camp and Damian Young
Reviewed by: Ian Evans on
Release Date(s)
Oct 24, 2014 - Wide


Have you ever met a meta-movie?

In Birdman or (The Unexpected Virtue of Ignorance), Michael Keaton plays Riggan Thomson, a former Hollywood giant best known for playing a superhero in three Birdman movies. Keaton has a familiarity with the subject matter. Hugely popular in the late 1980s and early '90s, Keaton wore the cowl and cape in two Batman films before heading off to smaller, more serious, fare.

Riggan's trying to reconnect with his inner serious actor and has written, directed and cast himself as the lead in a stage adaptation of Raymond Carver's What We Talk About When We Talk About Love. His backstage surroundings are chaotic. His onstage wife, Lesley (Naomi Watts), is another Hollywood actor consumed with fear over her Broadway debut. His offstage girlfriend, Laura (Andrea Riseborough), might be pregnant. His best friend and manager, Jake (Zach Galifianakis), constantly hounds him for over-spending and lack of ticket sales, while Riggan's recently rehabbed daughter Sam (Emma Stone) questions her father's relevance in her life and in a post-Twitter world of showbiz.

This chaos will seem calm after an accident leads him to recast one of the roles with Lesley's boyfriend Mike (Edward Norton), an actor who not only takes his craft far too seriously but also begins to steal some thunder from Riggan due to his larger Broadway street cred.

Mike challenges everybody at every level, questioning directions, lines, and the abilities of his co-workers. Plagued by doubts, unable to escape his super-hero past, and constantly hounded by the inner voice of his Birdman character, Riggan's life and grasp on reality spirals out of control.

Writer-director Alejandro González Iñárritu and his co-writers Nicolás Giacobone, Alexander Dinelaris, and Armanso Bo whip us into the same mental frenzy as Riggan by moving us quickly from one crisis to another with little room to breathe. Cinematographer Emmanuel Lubezki keeps the frantic tension going by cleverly making it appear as if the whole film is one long uninterrupted shot. This makes the viewer an almost physical observer of the action, following one character into a crisis only to be quickly get handed off to another character's issues like a member of an ADD-afflicted relay team.

The story in this film isn't so much A to Z as it is A to F, to B, to X. It's a two hour mood piece putting us so deeply into the world backstage that you almost expect to receive an IATSE pay stub before the film is over.

Keaton is frantic and wired as Riggan Thomson, a man so full of energy and fear that his blood is probably espresso. While you can't exactly root for his character, you can't look away for a second. Norton's Mike is every pompous, self-important ass you've ever met rolled into one. It's also impossible to take your eyes off Emma Stone, whose own expressive eyes seem storeys tall on the big screen as she tries to cover her own inner demons with cynical aloofness. Galifianakis isn't playing for laughs so much here and captures the symbiotic relationship of the friend/manager who constantly juggles the needs of friendship with the realities of business. Watts captures the roller-coaster ride of a person scared of her upcoming debut yet strong enough to end a damaging relationship in the middle of it all, Riseborough and Amy Ryan, who plays Riggan's long-suffering ex-wife, are essentially the ghosts of relationships present and past and both have had to deal with the fact that they always come second to Riggan's career and both share this pain and suffering with the viewer.

Birdman or (The Unexpected Virtue of Ignorance) examines the pain of diminished celebrity, the burdens of fame, the dangers of ego and the crushing angst of self-doubt. It's a bumpy ride but one you'll definitely want to take.