Bridge of Spies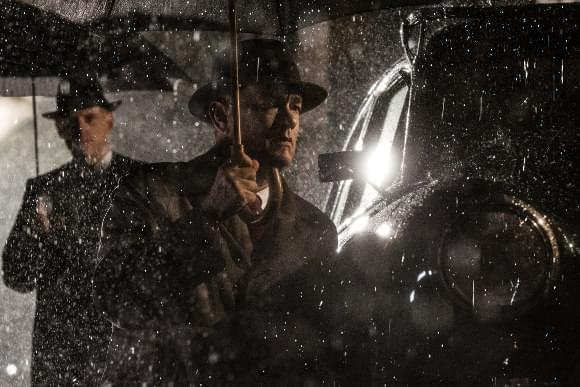 Photo: Jaap Buitendijk ©DreamWorks II Distribution Co., LLC and Twentieth Century Fox Film Corporation
Director(s): Steven Spielberg
Writer(s): Matt Charman, Ethan Coen and Joel Coen
Cast: Tom Hanks, Mark Rylance, Scott Shepherd, Amy Ryan, Sebastian Koch, Alan Alda, Austin Stowell, Mikhail Gorevoy and Will Rogers
Reviewed by: Ian Evans on
Release Date(s)
Oct 16, 2015 - Wide


Steven Spielberg and Tom Hanks have worked together several times. Though the pair may have developed a shorthand for working together, it doesn't mean they cut corners. Their new collaboration, Bridge of Spies, is a taut Cold War drama based on actual events that seeks to remind Americans about their Constitution and Bill of Rights.

Hanks plays James Donovan, a successful New York attorney whose main area of practice is in insurance suits. He's a razor sharp legal mind and a tough negotiator. When Russian spy Rudolf Abel (a wonderfully calm Mark Rylance) is caught, the U.S. government calls on Donovan to be Abel's public defender and show the world that he is getting a fair trial. Unfortunately, "show" is the operative word here. Prosecutors and judges cut corners and Donovan finds himself vilified and his family threatened for providing Abel with a vigorous defence. A defence that Donovan argues is based on a constitution and bill of rights that is the only thing that makes Americans who they are.

When U2 spy plane pilot Francis Gary Powers gets shot down over the Soviet Union, Donovan is once again called on by the government to negotiate his release. A negotiation that will take place behind the newly-built Berlin Wall and without the U.S. government actually acknowledging that he is their official negotiator.

This isn't an action film, save for the scene of Powers' plane crashing, but it's still a tense Cold War drama that will have you engrossed in the story even during the courtroom scenes. At a time when attention is drawn to U.S. interrogation techniques, overseas detentions and public surveillance, Spielberg and Hanks deliver a film that seeks to remind Americans of the very ideals that their country is built on. Do the ends justify the means, or is it all not worth it if U.S. agencies stoop to the level of the countries on the other side of the equation?

The film is written by Matt Charman and Joel and Ethan Coen and despite being a dramatic piece, still has those wonderful moments of dry, dark humour that the Coen brothers are know for. Janusz Kaminski's cinematography captures the grey, drab exteriors of bombed out East Berlin and the juxtaposition of the ornate "palaces" used by the East Germans and Soviets used for their government buildings.

In many ways, this is almost a one-man show for Hanks. The best interactions he has are when he shares the screen with Mark Rylance's Abel, who is such a calm person that his "would it help if I was" responses to questions about worry or fear become a running joke. In most other scenes, all eyes are on Hanks, whose Donovan seems to carry the whole weight of the Constitution on his shoulders at all times. His Donovan is a quiet, practical man who at the same time is willing to fight for the ideals that he thinks need to define a citizen.

Other films may be louder. Other films may have dazzling special effects. Bridge of Spies is a film that find its strength in its convictions.