Hitchcock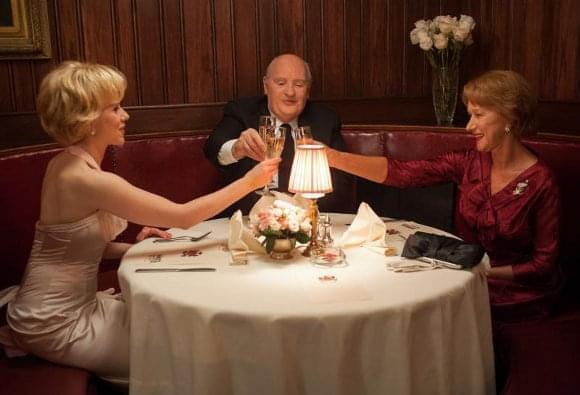 Photo: ©2012 Fox Searchlight
Director(s): Sacha Gervasi
Writer(s): John J. McLaughlin
Cast: Anthony Hopkins, Helen Mirren, Scarlett Johansson, Toni Collette, Danny Huston, Jessica Biel, Michael Stuhlbarg, James D'Arcy, Michael Wincott, Kurtwood Smith and Richard Portnow
Reviewed by: Ian Evans on
Director Alfred Hitchcock was a master of suspense, but I won't leave you hanging: Sacha Gervasi's new biopic Hitchcock wraps some wonderful performances around a light TV movie story.
In the film, the legendary director is confronted by a reporter who asks if he should retire now that he's in his sixties. Hitch, who's coming off of North by Northwest, feels he needs to prove himself on the cutting edge again and becomes fascinated with the book Psycho. While others dismiss the story as a trashy horror, Hitchcock (Anthony Hopkins) wonders if his skills can move horror from the B list to the A. When Paramount won't fund the film, Hitchcock's agent, Lew Wasserman (Michael Stuhlbarg) works out a plan for the director to finance the picture himself, putting the house that Alfred shares with his wife and artistic collaborator, Alma Reville (Helen Mirren), on the line.
Hitchcock begins casting the film and lands the curvaceous Janet Leigh (Scarlet Johansson) and nervous Anthony Perkins (James D'Arcy) as his leads. He also casts Vera Miles (Jessica Biel), one in his long line of actress obsessions, and an actress who disappointed him by choosing family over being his top star. While the director is obsessed with his leading ladies, poring over their photos, staring at them through the shades or peeping on them through his means in their dressing rooms, he's also consumed with his belief that his wife is cheating on him, both bodily and as an artistic collaborator, with Strangers on a Train screenwriter Whitfield Cook (Danny Huston). In his business life, he also has to keep studio chief Barney Balaban (Richard Portnow) and censor Geoffrey Shurlock (Kurtwood Smith) at bay to get his film made.
Psycho was a huge film for Hitchcock and focusing more on Hollywood antics and studio politics of that story would have been interesting enough for film buffs. Writer John J. McLaughlin's script, based on the 1990 book Alfred Hitchcock and the Making of Psycho by Stephen Rebello. instead spends a good chunk of its time focusing on the imagine affair between Whitfield and Alma. Alma's a strong, creative woman who puts up with Hitchcock's obsessions while always being his right hand in the creative process. The affair sub-plot doesn't really go anywhere and while their years of collaboration would make a good story in itself, apart from a few scenes, we don't really delve into that either. So without a deep look at the making of Psycho or the artistic dynamics of Alma and Alfred, we're pretty much looking at a story that hinges on its performances.
In that regard, Hitchcock doesn't disappoint. Anthony Hopkins, heavily done up in prosthetic make-up, portrays Hitchcock as a man of big appetites, whether he's consuming wine, expensive food flown in from Paris, or the actresses that populate his pictures. Hopkins shows us the strong director who is actually a man full of insecurities, foibles and obsessions.
Though the film's called Hitchcock, it could just have easily been called Alma. Helen Mirren almost walks away with the film. Mirren can say more with a pained silence than many actresses can say with a thousand words. The 67-year-old actress portrays such power and grace (and yes, people still marvel at her body) that she's the sexiest woman in the film, which is no easy feat when your co-stars are Scarlett and Jessica.
Scarlett Johansson plays Janet Leigh as a strong, confident actress and mother. Though she's heard about Hitch's issues with his leading ladies, Leigh cherishes their working relationship and manages to befriend the director while keeping his usual obsessions off the table. Johansson plays Leigh with an easy charm and a core of steel beneath her curvy exterior.
James D'Arcy captures the nervous energy of Anthony Perkins that made the young actor so perfect to play the troubled Norman Bates. The performance is very good and another reason to wish that the film had focused more on Psycho's production so that D'Arcy would have had more screen time. Though Danny Huston and Jessica Biel aren't given enough room to really show us much, the real crime has to be the amount of screen time given to Toni Collette, who plays Hitchcock's strong and efficient assistant, Peggy. If the film had taken the other tack and focused on Alma and Alfred's working relationship, perhaps Collette's character would have been given more room to fly.
With such great performances, the only suspense I found in the story was hoping that maybe this next scene or the one after it would finally give them a scene worthy of their roles.
Read our profile.