Mary Poppins Returns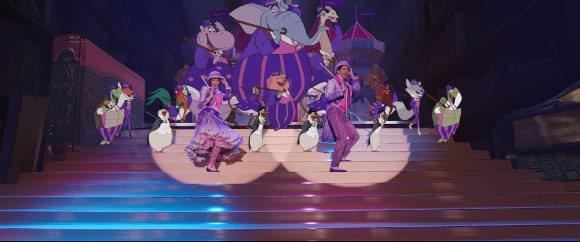 Photo: ©2018 Walt Disney Enterprises
Director(s): Rob Marshall
Writer(s): David Magee
Cast: Emily Blunt, Lin-Manuel Miranda, Ben Whishaw, Emily Mortimer, Julie Walters, Pixie Davies, Nathanael Saleh, Joel Dawson, Colin Firth, Meryl Streep, Dick Van Dyke and Angela Lansbury
Reviewed by: Ian Evans on
Release Date(s)
Dec 19, 2018 - Wide


Christmas is a busy time of the year, with all the running around, entertaining guests and remembering at the last minute that you forgot to buy a can of cranberry sauce. So as a public service I'll start off this review with the quick take: Emily Blunt and Mary Poppins Returns both had big shoes to fill. It's a perfect fit. Okay, so if you're busy you can leave now, but if you're having a nice hot chocolate by the Christmas tree and can stay a while, I'll continue.

Mary Poppins Returns takes place a couple of decades after the original film. Micheal Banks (Ben Whishaw) is a father of three, recently widowed, and facing the prospect of losing his home after a few missed loan payments. The struggling artist works at the same bank his father did and if he and his sister, Jane (Emily Mortimer), can find the right documentation then they can stop the bank's new head, Mr. Wilkins (Colin Firth) from foreclosing. Suddenly, Mary Poppins appears to once again help the Banks children and she doesn't mean Micheal's three independent offspring but rather the adults. As she embarks on reconnecting the young ones with their adventurous spirit — aided by the cheeky lamplighter Jack (Lin-Manuel Miranda) — perhaps Michael can come out from under his grey clouds.

Blunt and Miranda's work is cut out for them. The original Mary Poppins was released 54 years ago and the performances given to us by Julie Andrews and Dick Van Dyke were stellar and magical. The musical team of Marc Shaiman and Scott Wittman also have the Herculean task of competing with the score written by Robert and Richard Sherman, which brought us such songs as "Supercalifragilisticexpialidocious" and "A Spoonful of Sugar." For many, the original film is such a masterpiece of childhood wonder and delight that it would be easy to say they lost before they started. Faced with that, we have to consider Mary Poppins Returns on its own merits. There it succeeds no problem.

Emily Blunt perfectly balances the stuffy strictness of Mary with the unabashed fun and energy she has when entertaining and caring for the children. After all, being a magical figure in a child's life is serious business. Blunt may not possess the multi-octave pipes of Julie Andrews but she's a charming singer who can do some great moves on the dance floor. Lin-Manuel Miranda brings charm, boyish wonder, loyalty and musical chops to the role of Jack, though like Dick Van Dyke before him, he's probably not going to be recognized for his British accent. It's great to see Colin Firth play a role that's a little larger and broader then his usual character studies, while Julie Walters, who plays the Banks' longtime housekeeper, Ellen, gets laughs for the casual way she handles the madness around her as if it's business as usual. Meryl Streep's appearance as Mary's Cousin Topsy is brief, but she has fun with a character that adds some further nuttiness to the Banks children's day. Whishaw and Mortimer have that sibling bond down pat and Mortimer's Jane has all the hope and support needed to counter Whishaw's feelings of despair and loss. Despite their young age, Pixie Davies, Nathanael Saleh and Joel Dawson characters manage to be both older and wiser than their father and aunt yet still capable of childhood wonder.

Director Rob Marshall and screenwriter David Magee have managed to create a bright, frothy concoction that's also not afraid to momentarily go a little darker than the original, which fits perfectly given what the Banks family has gone through. The real magic is that their work managed to transport me back to the age I was when I first saw the original Mary Poppins and I found myself on the edge of my seat during the climactic scenes. I wasn't the only one. The audience actually cheered when Dick Van Dyke appeared at just the right moment.

Inundated as we are with the news of the day, we all need some good medicine to distract us. Mary Poppins Returns helps it go down so smoothly.