Money Monster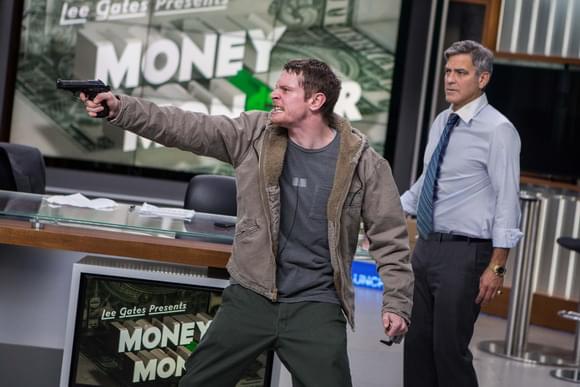 Photo: ©2016 TriStar
Director(s): Jodie Foster
Writer(s): Jamie Linden, Alan DiFiore and Jim Kouf
Cast: George Clooney, Julia Roberts, Jack O'Connell, Dominic West, Caitriona Balfe, Giancarlo Esposito, Christopher Denham, Lenny Venito, Chris Bauer, Dennis Boutsikaris, Emily Meade, Condola Rashad and Aaron Yoo
Reviewed by: Ian Evans on
Release Date(s)
May 13, 2016 - Wide


In Jodie Foster's Money Monster, George Clooney plays Lee Gates a Jim Cramer-esque host of a financial show that's as much about entertainment as it is about stocks. A company he recommended, IBIS Clear Capital, has crashed, but to Gates that's just more fodder for the show. For Kyle Budwell (Jack O'Connell), that crash killed his savings and now he's taking Gates and the studio hostage to air his grievances. Strapped into a suicide vest, Gates has to depend on his own wits and those of his producer, Patty Fenn (Julia Roberts), if he wants to get out alive. As Fenn talks to him through a tiny earpiece, Gates must help Budwell understand the events behind the collapse. As events unfold in almost real-time, a police captain (Giancarlo Esposito) has to deal with the lives at stake, while Ibis' Diane Lester (Caitriona Balfe) must deal with the opaqueness and double talk that passes for "transparency" in the corporate world.

Foster and writers Jamie Linden, Alan DiFiore and Jim Kouf have kept Money Monster down to very few locations besides the TV studio. With much of Robert's performance coming in a voice-over through Clooney's earpiece, they have created a slightly claustrophobic atmosphere that puts the viewer into the hostage situation in the small studio. Budwell, Gates and Fenn are often seen in close-ups, which takes us into the emotions that they are feeling during this life and death situation.

Money Monster is edged with some black comedy, touching upon the value of life and the speed at which we move from one big story to the next. Depending on your interest in the financial world, the tension drops a little as we go from the initial studio takeover to the discussion of high frequency trading algorithms. The writers also lean a little too heavily on the trope that hackers are magic and can quickly give you what you need to sew up your story.

Clooney's not foreign to films with a social conscience but the trick for director Foster is to maintain the balance between satisfying that goal while still attracting the viewers who want a little a little thrill in their thriller. Given that this isn't a film about car chases and alien invaders, the weight of the film rests on it performances. Roberts and Clooney do a great job of working together even though they're rarely seen together. Clooney's Gates is a man that has lost his humanity as his portfolio has increased and we see how he deals with the system he's a part of as he faces his own mortality. Roberts is the calm center of this media circus and life-threatening incident as Fenn must do what she can to keep those she works with closely alive while still trying to defuse the situation with journalistic instincts. O'Connell gives us insight into a man frustrated by what he sees as a rigged system and the feeling of impotence that perhaps there's nothing we can do. Balfe's corporate communications person walks the fine line between PR and the truth, while Dominic West's CEO is the corporate villain we love to hate. Giancarlo Esposito's police captain shows us the strain of life and death decisions that often have to be made with limited information.

Based on these performances, if Money Monster tickets were a stock, I'd rate them a buy.