Road to Perdition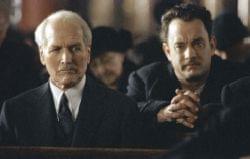 Photo: ©2002 DreamWorks Pictures Photo: Francois Duhamel
Director(s): Sam Mendes
Writer(s): David Self
Cast: Tom Hanks, Tyler Hoechlin, Paul Newman, Jude Law, Daniel Craig, Stanley Tucci, Jennifer Jason Leigh and Liam Aiken
Reviewed by: Ian Evans on
Release Date(s)
Jul 12, 2002 - Wide


It must be hard being Tom Hanks sometimes. If he does a comedy like You've Got Mail, everyone talks about how great he can be at comedies and want him to be goofy more often. If he makes a drama, this two-time Oscar®-winner gets hit with question after question about what he thinks his chances are to win another Oscar. All of the Academy Award buzz can distract filmgoers from actually enjoying the experience of watching the film.

The new Sam Mendes film Road to Perdition is one of those dramas that already has people talking about little golden trophies. Based on a graphic novel written by Max Allan Collins and illustrated by Richard Piers Rayner, Road to Perdition follows Michael Sullivan, a hit man for the Irish mob, as he and his son set out on a journey fuelled by revenge. The film studies the relationships of fathers and sons, both real and honorary.

Sullivan (Tom Hanks) works for local mob boss John Rooney (Paul Newman), a man who controls his town with a mixture of charm and violence and is like a father to Sullivan. This fact does not sit well with Rooney's own son Connor (Daniel Craig) a loose cannon who shares his father's violence but not his brains or charm. When Sullivan's son Michael Jr. (Tyler Hoechlin) witnesses his stoic father and Connor carrying out a hit, Sullivan's wife (Jennifer Jason Leigh) and youngest son are killed. Sullivan suddenly finds himself outside of the crime family he knew and trusted and travelling with a son he barely knows. Fathers and sons, love and hate, trust and loyalty – all of those relationships are tested and explored.

The first thing that strikes you about Road to Perdition is the look of the film. It captures the dark, shadowy look of a graphic novel. The sadness of the characters and story is reflected in the lighting and the weather. Rain, snow and slush are the stars here. If the sun makes an appearance it's an unbilled cameo. This is the Depression-era and the clothes on Sullivan hang off his body like they empathize with the pain and suffering he has seen and caused.

Being a tragedy, you have a pretty good idea where most of the characters are headed. In that case, you need good actors who will make the ride interesting as you head down a road you know.

The buzz before this movie is that Tom Hanks was playing a character against his likeable Everyman persona. Hanks' Michael Sullivan does have some characteristics we recognize like love of family, trust and loyalty, but this is a man that most of us luckily don't know. Sullivan always tried to do the right thing by Rooney, but in his profession the right thing often involved taking someone's life. Hanks wears the role like a heavy coat. His eyes betray the weary sadness of a man who has seen – and caused – many deaths. There are a couple of brief sparks of humor from this character but they are just a couple of patches of sunlight in an overcast sky.

Paul Newman's John Rooney perfectly captures the duality of the mob bosses character. A charitable man who can also order a killing. A man involved in gambling, numbers, booze and prostitution who doesn't want to get involved in the unions because "What men do after work is what made us rich. No need to screw them at work." His performance is both sinister and charming.

Newcomer Tyler Hoechlin comes into a film with heavyweights like Newman and Hanks and rising star Jude Law and he doesn't blink. His performance is solid and his character's the one that audiences will most likely identify with.

Jude Law's role as a hit man that makes extra income by selling photos of his victims is another page in a book of great performances by this rising star. His role is small, but in the few scenes that he's on screen we see the rat-like independence of this killer who operates outside the trappings of the organized crime families. If you've got the money, he's got the gun, as long as he can keep the photo rights. Jennifer Jason Leigh and Stanley Tucci also have small roles in the film, but again, there are no small roles, just small actors. If you give a one-line role to a great actor they'll add to the richness of the film.

Sam Mendes and his team have created a film that is almost overpowering in its reach to be viewed as an important film. Their attention to detail, cinematography, costumes and score all seem to aim for multiple accolades for everyone involved. In an industry where success is often measured with breasts and fast food tie-ins, what's wrong with a little ambition?