Soul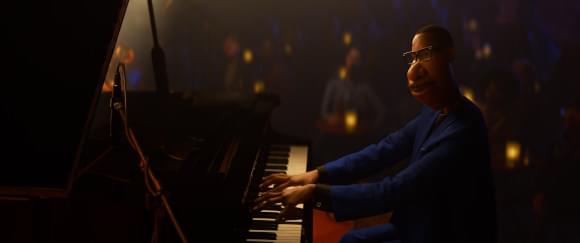 Photo: ©2020 Disney/Pixar. All rights reserved.
Director(s): Pete Docter and Kemp Powers
Writer(s): Pete Docter, Mike Jones and Kemp Powers
Cast: Jamie Foxx, Tina Fey, Graham Norton, Rachel House, Alice Braga, Richard Ayoade, Phylicia Rashad, Donnell Rawlings, Ahmir "Questlove" Thompson, Angela Bassett, Daveed Diggs, Wes Studi, Fortune Feimster, Zenobia Shroff and June Squibb
Reviewed by: Ian Evans on
Release Date(s)
Dec 25, 2020 - Streaming on Disney+


Disney/Pixar's Soul premieres on the streaming service Disney+ on Christmas Day and it's a present for the whole family.

Joe Gardener (Jamie Foxx) is a middle school music teacher who yearns to be a full-time jazz pianist despite his mother's (Phylicia Rashad) concerns that he needs the stability of his school job. When a former student lands him an audition with jazz legend Dorothea Willams (Angela Bassett), he lands the gig but falls through a manhole that same day.

Joe's not ready for the Great Beyond and instead of going towards the light, he hops off the conveyor and ends up in the Great Before, the area where souls are mentored to find their spark before beginning life on Earth. The head counselors mistake Joe for a mentor and assign him to 22 (Tina Fey), a soul that has spent hundreds of years avoiding heading to Earth. Not only has 22 had little interest in finding her spark, she's also managed to frustrate and anger her past mentors, a gaggle of souls that have included Abraham Lincoln, Gandhi and Mother Teresa. Joe and 22 find themselves briefly back on Earth, but not in the way Joe intended. The pair must rectify things before Joe's chances can be ruined by a zealous soul accountant (Rachel House). Along the way, they discover things about themselves and others that they hadn't contemplated before. What is a spark? What is a calling? And if you don't stop and smell the roses once in a while how do you even know you're living?

Soul's voice casting is perfect. Beyond the aforementioned characters, we have Richard Ayoade, Alice Braga, Fortune Feimster, Zenobia Shroff, and Wes Studi voicing Great Before counselors, British talk show host Graham Norton as a spiritual guide, The Roots' Questlove as a former student of Joe's, Donnell Rawlings as the barber who begins to open Joe's eyes, and Daveed Diggs as Paul, whose negativity always rains on Joe's parade. Each voice works perfectly for the character they've been given.

Visually, the film is stunning, whether it's the lovingly rendered city of New York — down to the bolts on the bridges, bricks in the building, and puddles on the roads — to the trippy Great Before, which looks like what would happen if Salvador Dali was involved in the animation of Simon in the Land of Chalk Drawings. I might go on a limb here and say it's Pixar's most visually adventurous film to date.

Finally, if characters form the heart of Soul, then music is the blood that flows through the veins of the movie. Trent Reznor and Atticus Ross composed the more other-worldly elements of the score, while Jon Batiste composed the jazz compositions that appear throughout Soul. Special kudos go out to the animators, who presented the live music performances beautifully.

Soul works for the whole family, with colourful and amusing characters for the young ones and deep thoughts for the adults. Definitely worth a watch.