Toy Story 4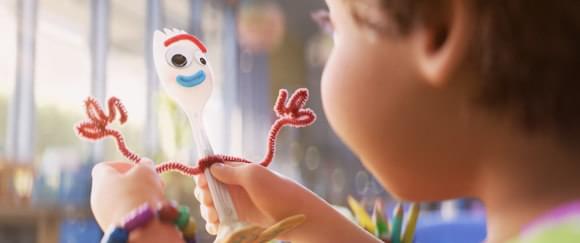 Photo: ©2019 Disney/Pixar
Director(s): Josh Cooley
Writer(s): Andrew Stanton and Stephany Folsom
Cast: Tom Hanks, Tim Allen, Annie Potts, Tony Hale, Keegan-Michael Key, Christina Hendricks, Jordan Peele, Keanu Reeves and Ally Maki
Reviewed by: Ian Evans on
Release Date(s)
Jun 21, 2019 - Wide


The Toy Story franchise, now 24 years old, has always had the perfect formula to be excellent films for the whole family. The characters are bright and colourful and funny, which is attractive to the kid in all of us, but the stories have layers that work for both the older siblings and the adults. In Toy Story 4, old and new characters alike are facing some major existential issues.

Woody, the rag-doll Jimmy Stewart-esque sheriff voiced by Tom Hanks, has always been the leader of the group of toys, keeping their spirits up and focused on their mission: keeping their child happy. A prologue shows the team rescuing one of Andy's toys from a watery doom and flashes back to the moment that an older Andy passed the toys on to young Bonnie. Bonnie has a different way of playing. She gives away Woody's sweetheart, Bo Peep (Annie Potts), and as time goes on Woody finds himself being played with less and less. If your entire purpose is to be in service to a child, what are you to do when your services are no longer needed?

When Bonnie heads off to kindergarten, Woody tags along to make sure she's okay. During craft activities, she takes a plastic spork, glues on googly eyes, and twists on pipe cleaner arms. She has a new favourite toy, Forky, but there's only one problem: Forky (Tony Hale) thinks he's trash. What follows is yet another existential crisis. Forky keeps hurling himself into the garbage, the one place where a single-use plastic utensil feels safe. Woody has a new purpose. If he can't serve Bonnie directly, he'll do his best to keep her beloved Forky safe.

It's that mission that sets Woody and the gang off on a new adventure, as an RV trip leads to a quest to save Forky, a reunion with an independent Bo Peep, and an antique store ruled over by an unwanted, damaged doll named Gabby Gabby (Christina Hendricks), who wants something Woody has. Her wishes are carried out by a squad of ventriloquist dummies that will give audience members of all ages the creeps. Along the way, Woody meets Bo Peep's feisty pal Giggle McDimples (Ally Maki), and the Evel Knievel-inspired Canadian stunt cyclist Duke Caboom (Keanu Reeves). Elsewhere, Buzz Lightyear (Tim Allen) is dealing with his own inner voice issues and his path crosses with the conjoined carnival prize duo of Ducky and Bunny, voiced perfectly by Keegan-Michael Key and Jordan Peele. These new characters add even more depth to a voice roster that still features Joan Cusack's Jessie, Wallace Shawn's Rex, and John Ratzenberger's Hamm.

Again, the magic of Toy Story 4 is its layers. The younger set will see a funny adventure, while the more mature will see moments of peril. The kids will see a nice, sweet ending, while the parents will be reaching for their tissues and saying it must be a sudden allergy attack, because that's the only thing that could explain why their eyes are watering so much. We've loved the Toy Story characters for 24 years. If this is the end of the road for the gang, it's a fitting ending that gives our pals new and renewed purpose. What remains to be seen is if we've outgrown our toys or will we, in a few years, be ready to play with them again?