Hurley in possible hot water
Jul 18, 2000 by Ian Evans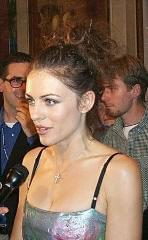 Elizabeth Hurley is at the center of a union controversy after she shot a commercial for Estee Lauder during the Screen Actors Guild strike against advertisers.
Hurley has already apologized for the gaffe, saying she does not live in the U.S. and was not aware of the situation. The commercial was shot as a non-union spot and is not intended to air in the States.
The Screen Actors Guild will investigate the incident. By performing during the strike, now in its 12th week, Hurley could face suspension, fines and expulsion from the union. Her apology and statement of support will be taken into account.