10th Annual Screen Actors Guild Awards (2004)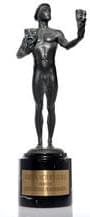 Actor Statuette
©2005 SAG
Date of Ceremony: Sunday, February 22, 2004
For performances seen in: 2003
Nominations Announcement: Thursday, January 15, 2004
Location: Shrine Auditorium, Los Angeles, CA
The Shrine Exposition Center played home to the 10th anniversary of the SAG Award ceremonies a year that also marked the 70th anniversary of Screen Actors Guild.
Karl Malden was the recipient of the Guild's 40th Life Achievement Award from Michael Douglas.
It was also the first year that DigitalHit.com attended the ceremonies. Check out our backstage results and commentary as well as our red carpet photos.
We'd like to give special thanks to Best Western, the Best Western Hollywood Plaza Inn and the Best Western Sunset Plaza Hotel for their generous assistance with our coverage stay.
Heading into the ceremony, the following production(s) had three or more nominations:
Angels in America: 6
Everybody Loves Raymond: 6
Will & Grace: 4
The West Wing: 4
Six Feet Under: 3
The Station Agent: 3
Mystic River: 3