10th Annual Screen Actors Guild Awards Results and Commentary (2004)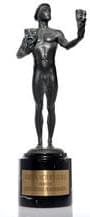 Actor Statuette
©2005 SAG
Date of Ceremony: Sunday, February 22, 2004
For performances seen in: 2003
Check out our over 200 red carpet and
backstage photos.
7:57 PM ET
Good evening and welcome to DigitalHit.com's coverage of the 10th Annual Screen Actors Guild Awards. This is our first time covering this event and we'll have you covered backstage and on the red carpet.
8:01 PM ET
Here we go, it'll be crazy back here tonight. All that's between us and the shouting photographers is a thin black curtain. The show opens with several actors including Brad Garrett, Alec Baldwin and Tyne Daly discussing how they became actors. "My name is Jesse L. Martin and I'm an actor."
8:03 PM ET
Naomi Watts is the first beautiful presenter. She's presenting Male Actor in a Supporting Role. And the Actor goes to Tim Robbins for his performance in Mystic River.
"Oh boy! That's so cool. Susie's got one of these. I'm gonna get them alone in a dark room and see what happens." – Tim Robbins
8:09 PM ET
Liv Tyler then introduced the first clip for ensemble cast, Lord of the Rings: The Return of the King.
Jake Gyllenhaal then acted as presenter for the next SAG Award of the night, Female Actor in a Supporting Role. And the Actor goes to Renee Zellweger for Cold Mountain.
"Oh my heart! Thank you very much. Thank you for inviting me here tonight, it is such an honor. I think it's the nicest invitation of the year actually, and I'm beside myself. I believe that you're only as good as the folks that you're working with and I was spoiled for riches on this experience with Cold Mountain." – Renée Zellweger
8:18 PM ET
Time for Zach Braff and Amber Tamblyn to perform their roles as the presenters for Male Actor in a Drama Series. And the Actor goes to Kiefer Sutherland for 24.
"Very quickly, I realized I wanted to be an actor, I was about 14, I was watching a performance of Who's Afraid of Virginia Woolf, and somewhere between the first and second act, I forgot my mother was playing Martha and I realized how powerful that was. As my interest grew, I started to spend time with her friends, other actors, and I realized that as different as they all were, they were connected by a bond. And there was a freedom in that bond and they became my family and as my career has developed, actors have been my family, and to get this from you, I cannot thank you enough." – Kiefer Sutherland
8:22 PM ET
The next category, Female Actor in a Drama Series, was presented by Jane Kaczmarek and William Petersen. And the Actor goes to Frances Conroy for Six Feet Under. Frances won the same category at the Golden Globes this year. She too stressed the community importance and protective embrace of the union.
8:26 PM ET
Sean Hayes then intro'd a special look back at the first ten years of the SAG Awards, including the famous clip where Tom Hanks pulled his Guild card out of his pocket.
8:30 PM ET
The cast of Frasier takes the stage next, getting a standing ovation from their peers. The cast of the comedy series, which ends this year, then presented the award for Ensemble in a Drama Series. And the Actor goes to the cast of Six Feet Under. Peter Krause talked about how the SAG Awards honor the ensemble.
"I think I can safely speak for the rest of the cast when I say that as a group we always find it a lot more interesting what happens between two people rather than what one person is doing. And this is the only occasion that an ensemble gets to be awarded in the award arena, so I think we're all very happy to be standing up here together, as happy as we are to be working with each other." – Peter Krause
Meanwhile, backstage, Renée is talking about the steps she took to prepare for her role in Cold Mountain. When asked if she felt the pressure to give award-winning performances, she said she didn't know as she had never really thought of anything beyond the work.
8:38 PM ET
While Kiefer joins us backstage, SAG President Melissa Gilbert thanks the other unions like IATSE and the DGA. She also talked about how actors can help foster tolerance through the telling of stories from different cultures.
8:41 PM ET
Richard Chamberlain then presented the Actor for Female Actor in a TV Movie or Miniseries. And the Actor goes to Meryl Streep for Angels in America. She thanked HBO for raising the bar. Her speech rhymed, so she'll always have work as a poet if this acting gig dries up.
"Uncomfortable truths, homosexual youths, middle-aged heterosexual glory, Al Pacino's face, Emma Thompson's grace, Tony Kushner's incomparable story. Forgiving Mike Nichols, a truckload of shekels to bring this sweet tale to the masses. Of rose-lipped maidens and light-foot lads, and how quickly all of it passes." – Meryl Streep
8:45 PM ET
Peter Dinklage then intro'd the next ensemble clip for The Station Agent.
8:49 PM ET
Comic moment: Backstage, SAG prez Melissa Gilbert said her union's show was usually on time. Meanwhile, a big screen in the auditorium was telling winners to keep it short as the show was running long. "I've been proven a liar!"
8:51 PM ET
Dennis Haysbert and Mariska Hargitay then presented Female Actor in a Comedy Series. And the Actor goes to Megan Mullally for Will & Grace. Megan dragged Debra Messing up on stage with her.
" …Debra is so deserving, she's just a great actress, I hope you all get a chance to work with her some day, it's a real treat. Other than that, I am absolutely stunned to be standing here, that's why I brought Debra, so I thought may she could say something about me. 'Cause I got nothin'." – Megan Mullally
8:55 PM ET
Mark Harmon and Kathryn Morris then presented Male Actor in a Comedy Series. And the Actor goes to Tony Shalhoub for Monk. "It is my fondest wish that all of you out there get to work with the team of people I work with."
8:58 PM ET
Laura Linney and Marcia Gay Harden then intro'd the clip from the next ensemble film nominee, Mystic River.
9:00 PM ET
Moving along at a fast clip, Jennifer Garner and Kiefer Sutherland then presented the Actor for Ensemble in a Comedy Series. And the Actor goes to the cast of Sex and the City, which coincidentally is airing its series ender tonight. Kristin Davis spoke on behalf of her co-stars.
"We want to thank HBO for being brave and letting us do some strange things. And we want to thank Sarah Jessica, and Michael Patrick, and all of our wonderful writers. And all of our background players who had to look like they were having the most fun at a nightclub ever, in New York City, ever." – Kristin Davis
9:09 PM ET
It's now time for Michael Douglas to present the Lifetime Achievement Award to his Streets of San Francisco co-star, Karl Malden. Malden was honored to receive the kudo from his peers, who listened intently to his speech.
"So, to the wonderful Screen Actors Guild, to all the actors and actresses in our country, and to this moment, to everybody here tonight, let me say I am thankful of this moment in my career. And if I may say so, I am thankful to you in this life of mine. This is the peak for me. Thank you." – Karl Malden
Meanwhile, Tony Shalhoub joined us backstage. He said he was quite shocked to win. "Sean Hayes won last year, and when Megan won, I thought everyone was focused on Will & Grace and he'd win again."
When three of the Sex and the City cast join us in the press room Kim Cattrall gets asked what she thought of Christina Aguilera's portrayal of her on last night's Saturday Night Live. She said that she was fantastic and added that if she had known that she could have done the mannerisms and voice so well, she would have asked to take a few more days off.
9:24 PM ET
Andie MacDowell and Mark Ruffalo then resumed the award-giving by presenting Male Actor in a TV Movie or Miniseries. And the Actor goes to Al Pacino for Angels in America.
"And I want to thank you actors of the Screen Actors Guild members for honoring me with this. I wish you all luck, I hope you all can get a part that you really love it's really great. I thank you all. Thank you." – Al Pacino
9:28 PM ET
Djimon Hounsou then intro'd the clip for In America.
9:29 PM ET
It's now time for Meryl Streep to present the In Memoriam segment, which pays tribute to the actors who have passed away in the last year. Amongst them: Katherine Hepburn, Fred Rogers, Bob Keeshan, Art Carney, Uta Hagen, Jack Elam, Gordon Jump, Jack Paar, Donald O'Connor, Robert Stack, Michael Jeter, Buddy Ebsen, Buddy Hackett, Ann Miller, Johnny Cash, Charles Bronson, David Hemmings, Alan Bates, Lynne Thigpen, Hume Cronyn, John Ritter, Gregory Hines, Bob Hope and Gregory Peck.
9:39 PM ET
Roughly twenty minutes to go and Clint Eastwood takes the stage to present the Actor for Female Actor in a Leading Role in a Motion Picture. And the Actor goes to Charlize Theron for Monster.
" It just doesn't get any better. I am so honored and proud to be an actor, 'cause God knows, I don't know what else to do." – Charlize Theron
9:44 PM ET
Jeff Bridges then intro'd the clip for the cast nominee Seabiscuit.
9:45 PM ET
One of tonight's winners, Renée Zellweger, then had the fun of presenting the Actor for Male Actor in a Leading Role in a Motion Picture. And the Actor goes to Johnny Depp for Pirates of the Caribbean: The Curse of the Black Pearl. The win got a big shocked whoop from the press room, as our money was on either Bill Murray or Sean Penn. Depp was not on hand to accept the award.
9:49 PM ET
Backstage, Al Pacino was asked the best advice he had ever received. He said it was "to learn my lines." Told that Depp had won, Pacino was very happy to hear about the success of his Donnie Brasco co-star. When told that he wasn't there, Pacino said, "Figures."
9:53 PM ET
It's now time for the last award of the night and Catherine Zeta-Jones takes the stage to present Cast of a Motion Picture. And the Actor goes to the cast of The Lord of the Rings: The Return of the King.
"The ensemble qualities of this award go way beyond the cast I think. I think everyone here realizes that we sit atop a kind of pyramid of talent, we actors. Because we can't do what we do without the whole structure beneath us, and I think we're all very aware of that, and very appreciative of the producers, the writers, the directors, and the make-up people, and the people who arrange the trailers in a circle and keep them warm for us in the morning, and make sure that we've got coffee and tea and things that keep us going during the day, and all that kind of stuff." – Bernard Hill
10:02 PM ET
Theron joins us backstage. She was extremely honored to be recognized by her peers. When asked what she thought about the Academy's love of "women of the evening", Charlize said that she hoped that it was the individual work that was recognized.
10:31 PM ET
Backstage, we're joined by the cast of The Lord of the Rings: The Return of the King. Sean Astin made a comment about stopping runaway productions…an odd comment from an actor who spent 18 months in New Zealand surrounded by an international cast.
That's it for this year. Thanks for joining us for our coverage of the 10th Annual SAG Awards. Please take a look at the red carpet photos.
We'd like to give special thanks to Best Western, the Best Western Hollywood Plaza Inn and the Best Western Sunset Plaza Hotel for their generous assistance with our coverage stay.