16th Annual Screen Actors Guild Awards (2010)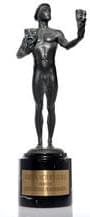 Actor Statuette
©2005 SAG
Date of Ceremony: Saturday, January 23, 2010
For performances seen in: 2009
Nominations Announcement: Thursday, December 17, 2009
Location: Shrine Auditorium, Los Angeles, CA
The 16th Annual Screen Actors Guild Awards took place on Saturday, January 23, 2010 at the Shrine Auditorium in Los Angeles.
Sandra Bullock presented the Life Achievement Award to Betty White, her co-star in The Proposal.
Special thanks to the beautiful O Hotel for their assistance with our coverage stay and to Freeman Formalwear for Ian Evans' tuxedo.
Heading into the ceremony, the following production(s) had three or more nominations:
The Closer: 3
30 Rock: 3
Dexter: 3
Up in the Air: 3
Precious: Based on the Novel Push by Sapphire: 3
Inglourious Basterds: 3