17th Annual Screen Actors Guild Awards (2011)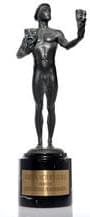 Actor Statuette
©2005 SAG
Date of Ceremony: Sunday, January 30, 2011
For performances seen in: 2010
Nominations Announcement: Thursday, December 16, 2010
Location: Shrine Auditorium, Los Angeles, CA
The 17th Annual Screen Actors Guild Awards were held on Sunday, January 30th, 2011 at the Shrine Auditorium in Los Angeles.
The recipient of the Guild's Lifetime Achievement Award was Ernest Borgnine. SAG President Ken Howard said this of Borgnine, who won an Academy Award®, a BAFTA and a Golden Globe® for his role in Marty:
"Whether portraying brutish villains, sympathetic everymen, complex leaders or hapless heroes, Ernest Borgnine has brought a boundless energy which, at 93, is still a hallmark of his remarkably busy life and career. It is with that same joyous spirit that we salute his impressive body of work and his steadfast generosity."
Special thanks to the beautiful O Hotel for their assistance with our coverage stay and to Freeman Formalwear for Ian Evans' tuxedo.
Heading into the ceremony, the following production(s) had three or more nominations:
The King's Speech: 4
The Fighter: 4
Modern Family: 4
Black Swan: 3
Mad Men: 3
Dexter: 3
30 Rock: 3
Temple Grandin: 3
You Don't Know Jack: 3
The Kids Are All Right: 3
Glee: 3