18th Annual Screen Actors Guild Awards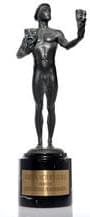 Actor Statuette
©2005 SAG
Date of Ceremony: Sunday, January 29, 2012
For performances seen in: 2011
Nominations Announcement: Wednesday, December 14, 2011
Location: Shrine Auditorium, Los Angeles, CA
This page is the home of our coverage for the 18th Annual Screen Actors Guild Awards. We were on the red carpet and backstage and have coverage of the results from ceremony on Sunday, January 29th.
Here's a look at the list of presenters:
Kevin Bacon, Kathy Bates, Bérénice Bejo, Kenneth Branagh, Kyle Chandler, Jessica Chastain, Don Cheadle, George Clooney, Glenn Close, Bryan Cranston, Matt Czuchry, Viola Davis, Patrick Duffy, Jean Dujardin, Tina Fey, Linda Gray, Judy Greer, Larry Hagman, Armie Hammer, Ed Helms, SAG President Ken Howard, Regina King, Sir Ben Kingsley, John Krasinski, Julianna Margulies, Melissa McCarthy, Brad Pitt, Natalie Portman, Maya Rudolph, Zoe Saldana, Kyra Sedgwick, Octavia Spencer, Meryl Streep, Michelle Williams, Owen Wilson, Kristen Wiig, Shailene Woodley and Dick Van Dyke.
Heading into the ceremony, the following production(s) had three or more nominations:
Modern Family: 5
The Help: 4
The Artist: 3
30 Rock: 3
Dexter: 3