18th Annual Screen Actors Guild Awards Results and Commentary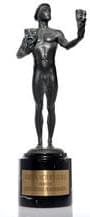 Actor Statuette
©2005 SAG
Date of Ceremony: Sunday, January 29, 2012
For performances seen in: 2011
8:00 PM ET
The show opens with various actors (Demian Bichir, Jon Cryer, Amber Riley, Emily Watson, Jim Parsons and Rose Byrne) discussing how they got into the profession.
8:04 PM ET
Michelle Williams takes to the stage to welcome everyone to the awards. She then presents Male Actor in a Supporting Role. And the Actor goes to Christopher Plummer for Beginners. It's his first SAG Award.
"I just can't tell you what fun I have had being a member of the world's second oldest profession. I mean, actors are gregarious and wacky — are they not — and I love them dearly. But when they honor you, it's like being lit by the Holy Grail. Thank you, thank you, thank you." – Christopher Plummer
8:08 PM ET
George Clooney and Shailene Woodley present a clip from the ensemble nominated film The Descendants.
8:10 PM ET
Don Cheadle has the role of he presenter of the award for Female Actor in a Supporting Role. And the Actor goes to Octavia Spencer for The Help. It's her first nomination and win. She's obviously a favourite as the whoops in the audience were a little louder for her.
"But I have to say that it was really a privilege to work on a film that gave a voice to so many women who made it possible for me to be standing here tonight. These women represented our mothers, our grandmothers, and it was their courage and them facing the challenges that they faced every day, and living their life, and dignity and grace. And I thank you. By honoring me, you honor them." – Octavia Spencer
Taking my breath here…the carpet near the end was absolutely crazy.
8:19 PM ET
Bryan Cranston and Julianna Margulies stroll out arm-in-arm to present Male Actor in a Comedy Series. And the Actor goes to Alec Baldwin for 30 Rock. It's his sixth consecutive win in this category. He also manages to plug the SAG Foundation and BookPals.
"I just want to say, the only thing this means to me is that obviously you people love Tina's writing and you love Robert Carlock's writing. I want to have a big round of applause because everybody… in television — it is not going to work unless you have great writing. I mean, no offense to everybody else here, but we have the greatest writing. We have the greatest writers. We have Tina and Robert Carlock and John Riggi and Hubbard and Burditt and all these people, and Kay and Tracey, too many to name." – Alec Baldwin
8:24 PM ET
Kyle Chandler and Regina King talk about the past jobs held by the nominees before presenting Female Actor in a Comedy Series. And the Actor goes to a shocked Betty White. It's her second consecutive win for Hot in Cleveland.
"I think they made a terrible mistake. You can't name me without naming those other wonderful women on Hot in Cleveland. This nomination, I was thrilled, of course, but the nomination belongs to four of us. And, please, please, know that I'm dealing them right in with this. I'm not gonna let them keep this, but I'll let them see it. " – Betty White
8:28 PM ET
Jessica Chastain intros a segment on the union.
Meanwhile, Christopher Plummer's back here. He explains he was a terrible drunk and his wife's love saved his life.
Husband and wife team Kevin Bacon and Kyra Sedgwick present the Ensemble in a Comedy Series. And the Actor goes to the cast of Modern Family, their second consecutive win.
"We honestly have the greatest jobs any actor could ever ask for. The opportunity that we get to make people laugh each week is, you know, we take that very seriously." – cast member Ariel Winter
8:41 PM ET
Kenneth Branagh and Glenn Close have been cast as the presenters of Female Actor in a TV Movie or Miniseries. They talk about the lines between film and TV actors blurring. And the Actor goes to Kate Winslet for Mildred Pierce. Unfortunately, Kate's not here to accept.
Octavia Spencer, Emma Stone and Viola Davis present the clip for the ensemble nominated film The Help.
Armie Hammer, fresh from his Texas pot bust, and Zoe Saldana, straight from looking hot, present Male Actor in a TV Movie or Miniseries. And the Actor goes to Paul Giamatti for Too Big to Fail. He's not there to accept either.
8:49 PM ET
SAG President Ken Howard talks about it being the 18th year of the SAG Awards and pays tribute to the other unions and guilds that collaborate to make films and TV. He then introduces Roberta Reardon, the head of AFTRA, the union they'll soon be merging with after a vote.
Maya Rudolph, Kristen Wiig and Melissa McCarthy introduce the clip for the ensemble nominated Bridesmaids after introducing us to a drinking game based on Martin Scorcese.
The legendary Dick Van Dyke takes to the stage after getting a standing ovation to present the Life Achievement Award to Mary Tyler Moore.
The cast of Modern Family joins us back here and one reporter grills Sofia Vergara on what type of underwear she's wearing. Way to set the bar.
9:07 PM ET
Mary Tyler Moore takes to the stage to another ovation as she accepts the Life Achievement Award.
9:10 PM ET
Alec Baldwin joins us backstage and asks us to cheer for him a little louder. He talks about politics and how the Republicans are going about their nomination process. He jokes that he's still playing Words with Friends "…but on Virgin Atlantic."
9:15 PM ET
Octavia Spencer joins us backstage, She says to be silent is to be passive and wishes that equal rights good be shared by everyone.
9:16 PM ET
Judy Greer and Ed Helms present the nominees for Female Actor in a Drama Series. And the Actor goes to Jessica Lange for American Horror Story.
"…I want to thank specifically the writers. I want to thank the directors. I would love to thank Ryan Murphy for his special attention to this character. And mostly I want to thank the other actors. Sometimes, you know, you go to work and it's…it's thrilling, and that's what makes us continue to do it. So, I thank you for your generosity. I thank you for making my work better and&ldots;to be an actor means everything to me. So, thank you so much." – Jessica Lange
9:20 PM ET
Berenice Bejo and Jean Dujardin present the clip for the ensemble nominated film, The Artist.
9:21 PM ET
Tina Fey and John Krasinski, who brings us laughs each week on 30 Rock and The Office. They present Male Actor in a Drama Series. And the Actor goes to Steve Buscemi for Boardwalk Empire.
"Thank you so much to HBO for supporting us. Terry Winter, I will thank you till my dying day. But please don't kill me, I don't want to die prematurely." – Steve Buscemi
9:26 PM ET
Meryl Streep presents this year's In Memoriam segment.
The SAG Awards always keep their pace well. Hard to believe there's only about 30 minutes to go.
9:34 PM ET
Dallas' Linda Gray, Larry Hagman and Patrick Duffy team up again to present Ensemble in a Drama Series. And the Actor goes to the cast of Boardwalk Empire. It's their second consecutive year taking this category home.
"We are so honored, we love doing the show. Terry Winter, thank you so much for giving us all these incredible parts to play." – Steve Buscemi
9:39 PM ET
Jessica Lange joins us backstage, while out on the Shrine's stage Kathy Bates and Owen Wilson intro the clip for Midnight in Paris.
Back here, Jessica goes out of her way to praise the writing on her show. She likes that people like her show because "I don't watch TV so I don't expect anyone else too."
9:41 PM ET
Natalie Portman, last year's lead actress winner presents the nominees for Male Actor in a Leading Role. And the Actor goes to Jean Dujardin for The Artist, which causes a surprised gasp back here in the press room. Many pundits felt that Clooney would be the winner.
"Okay, it's too much. I was a very bad student. I didn't listen in class. I was always dreaming. My teachers called me 'Jean de la lune' —- 'Jean of the moon.' And I realize now that I never stopped dreaming. Thank you very much." – Jean Dujardin
9:50 PM ET
Sir Ben Kingsley presents the nominees for Female Actor in a Leading Role. And the Actor goes to Viola Davis for The Help.
"I was eight years old when I decided to be an actor. And I am just so privileged to be gazing on the beautiful face of the woman who inspired me that beautiful day, and that's Cicely Tyson. And when I woke up and realized how difficult it was to be an actor, and how the rejection was so high, then another beautiful face graced the screen when I was in college, and that was Meryl, who just…always inspires me. But there's so many people involved in The Help, in lieu of mentioning all them, I just have to say that, what is there but a dream. You can't trade in your dream for another dream." – Viola Davis
9:55 PM ET
Brad Pitt comes out to present the night's final award, Cast of a Motion Picture. And the Actor goes to the cast of The Help.
"You know, we arrived on the set in July in 2010, with such a heavy load on our shoulder. Such great expectations were already there for this book that was so beloved. And it's been such a labor of love. And they say that the ensemble is just a group effort, just brought together to create a singular effect. And all these actors on the stage gave up their ego and were able to just work. And it's been such a joy to just be a part of this cast." – Viola Davis
10:08 PM ET
The cast of Boardwalk Empire joins us backstage. The young children in the cast are more interested in playing with the microphone and punching their siblings than all the ballyhoo going on around them.
That's it for another year. Thanks for joining us. And as Viola Davis said tonight, "Dream big."