19th Annual Screen Actors Guild Awards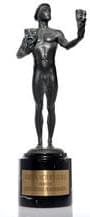 Actor Statuette
©2005 SAG
Date of Ceremony: Sunday, January 27, 2013
For performances seen in: 2012
Nominations Announcement: Wednesday, December 12, 2012
Location: Shrine Auditorium, Los Angeles, CA
This page is the home of our coverage for the 19th Annual Screen Actors Guild Awards, which took place on Sunday, January 27, 2013.
This year's Lifetime Achievement recipient is the wonderful Dick Van Dyke.
In a statement, SAG-AFTRA Co-President Ken Howard said, "Dick is the consummate entertainer — an enormously talented performer whose work has crossed nearly every major category of entertainment. From his career-changing Broadway turn in Bye Bye Birdie and his deadpan humor in the Emmy® winning Dick Van Dyke Show, to his unforgettable performance as Bert in Mary Poppins, he sets a high bar for actors. Stage, big screen, small screen, literally everywhere he has worked he has inspired millions of fans and has had a tremendously positive impact on the industry and the world. He is so deserving of this honor and I congratulate him."
SAG-AFTRA Co-President Roberta Reardon said: "With Dick, it's so much more than the proverbial 'triple threat.' He started his career as a radio announcer, game show host and comedian and was a spokesman for Kodak, among numerous other roles over his nearly 60-year career. His contributions to the success of the business and to his fellow performers is legendary as is his work with a number of the leading ladies of our times, including Julie Andrews and Mary Tyler Moore — both previous Life Achievement Award recipients. His infectious laugh has warmed audiences for decades and is an unforgettable facet of his fabulous personality."
Social media fans could also follow actress Busy Philipps (@Busyphilipps25), who was the ceremony's social media ambassador this year.
Heading into the ceremony, the following production(s) had three or more nominations:
Silver Linings Playbook: 4
Les Misérables: 4
Lincoln: 4
Modern Family: 4
Breaking Bad: 3
30 Rock: 3
Homeland: 3
Game Change: 3
Boardwalk Empire: 3
Downton Abbey: 3