1st Annual Screen Actors Guild Awards Results and Commentary (1995)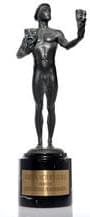 Actor Statuette
©2005 SAG
Date of Ceremony: Saturday, February 25, 1995
For performances seen in: 1994
Other years:

The inaugural edition of the Screen Actors Guild Awards® were handed out at Universal Studio's Stage 12 and aired live on the NBC network on February 25, 1995.
The top film awards went to Tom Hanks for Forrest Gump and Jodie Foster for Nell.
The new awards show recognized the work of ensembles and NYPD Blue and Seinfeld went home with those honors, while Dennis Franz, Kathy Baker, Jason Alexander and Helen Hunt took home individual series honors.
The always lovely Ann-Margret presented George Burns with the first televised presentation of the Life Achievement Award, the Guild's highest honor.
Results
Outstanding Performance by a Male Actor in a Leading Role
Outstanding Performance by a Female Actor in a Leading Role
Outstanding Performance by a Male Actor in a Supporting Role
Outstanding Performance by a Female Actor in a Supporting Role
Bullets over Broadway
Dianne Wiest
Outstanding Performance by an Ensemble in a Drama Series
NYPD Blue
Gordon Clapp, Dennis Franz, Sharon Lawrence, James McDaniel, Gail O'Grady, Jimmy Smits and Nicholas Turturro
Outstanding Performance by a Male Actor in a Drama Series
Outstanding Performance by a Female Actor in a Drama Series
Picket Fences
Kathy Baker
Outstanding Performance by an Ensemble in a Comedy Series
Seinfeld
Jason Alexander, Julia Louis-Dreyfus, Michael Richards and Jerry Seinfeld
Outstanding Performance by a Male Actor in a Comedy Series
Outstanding Performance by a Female Actor in a Comedy Series
Outstanding Performance by a Male Actor in a Television Movie or Miniseries
The Burning Season
Raul Julia
Outstanding Performance by a Female Actor in a Television Movie or Miniseries
Breathing Lesson
Joanne Woodward
31st Life Achievement Award