23rd Annual Screen Actors Guild Awards Results and Commentary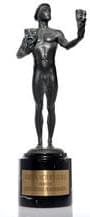 Actor Statuette
©2005 SAG
Date of Ceremony: Sunday, January 29, 2017
For performances seen in: 2016
Welcome to DigitalHit's coverage of the 23rd Annual Screen Actors Guild Awards, which took place on January 29th, 2017.
8:00 PM
A group of actors including Kerry Washington, Jeff Bridges, Sterling K. Brown. Ellie Kemper, and Ashton Kutcher talk about their beginnings, each ending with "I am an actor."
8:03 PM
Kutcher welcomes everyone to the show, including those being detained in airports, a reference to President Trump's controversial travel ban. Kutcher then presents Female Actor in a Comedy Series. And the Actor goes to Julia Louis-Dreyfus for Veep, though it sounds like Kutcher said "Louise". Her speech makes a couple of digs at Trump and then blasts his immigration policy.
"Whether the Russians did or did not hack the voting of tonight's SAG Awards, I look out on the million, or probably even a million and a half people in this room, and I say this award is legitimate and I won. I'm the winner. The winner is me. Landslide. But to a less insane note, I'd like to say that I am a very proud member of this union, and I'm thrilled to be here tonight, and I thank the Screen Actor's Guild. I want you all to know that I am the daughter of an immigrant. My father fled religious persecution in Nazi-occupied France, and I'm an American patriot, and I love this country. And because I love this country, I am horrified by its blemishes. And this immigrant ban is a blemish and it is un-American." – Julia Louis-Dreyfus
8:09 PM
John Legend and Gina Rodriguez stroll out next to present Outstanding Performance by a Male Actor in a Comedy Series. And the Actor goes to William H. Macy for Shameless.
"Well, I'm shocked. I'm probably not as shocked as Jeffrey, but I'm pretty shocked. I would like to go against the stream this evening and thank President Trump for making Frank Gallagher seem so normal. I love being an actor. I love being in this room with all of you. I love my wife. And if you ever get a chance to work for Showtime, do it. If you ever get a chance to work with my cast, do it. If you ever get a chance to work with John Wells, do it." – William H. Macy
8:13 PM
Taraji P. Henson, Octavia Spencer and Janelle Monáe present a clip from the ensemble-nominated Hidden Figures.
8:15 PM
The young actors from Stranger Things — Millie Bobby Brown, Gaten Matarazzo, Caleb McLaughlin, and Finn Wolfhard — are presenting Outstanding Performance by an Ensemble in a Comedy Series. And the Actor goes to Orange is the New Black. It's the third win for the 37 member ensemble.
"…we'd like to say that we stand up here representing a diverse group of people representing generations of families who have sought a better life here from places like Nigeria, the Dominican Republic, Puerto Rico, Columbia, Ireland, Brooklyn. Yes. And we know that it's going to be up to us and all of you probably, too, to keep telling stories that show what unites us is stronger than the forces that seek to divide us." – Taylor Schilling
8:26 PM
John Krasinski talks about being inspired by women, saying that, "As the father of two girls, I am consistently trying to find words to accurately encapsulate my experience. I think the brilliant writer William Golding came pretty close when he said, 'I think women are foolish to pretend they are equal to men. They are far superior and always have been'". He then presents Outstanding Performance by a Female Actor in a Supporting Role. And the Actor goes to Viola Davis for Fences.
"You know they say that maybe all one can hope for is the right regrets. And what August did so beautifully is he honored the average man, who happened to be a man of color. And sometimes, we don't have to shape the world and move the world and create anything that is going to be in a history book. The fact that we breathed and live a life and was a god to our children, just that means we have a story and it deserves to be told. We deserve to be in the canon of any — in the center of any narrative that's written out there. And that's what August did. He elevated my father, my mother, my uncles, who had eighth and fifth grade educations, and he just encapsulated him in history. So thank you, August." – Viola Davis
8:31 PM
Kathryn Hahn and Viggo Mortensen present a clip from the ensemble-nominated Captain Fantastic.
8:33 PM
Kate Hudson is now here to present the Actor statuette for Outstanding Performance by a Male Actor in a Supporting Role. And the Actor goes to Mahershala Ali for Moonlight.
"You know, when we kind of get caught up in the minutia, the details that make us all different. I think there's two ways of seeing that. There's an opportunity to see the texture of that person, the characteristics that make them unique. And then there's an opportunity to go to war — to go to war about it, to say that that person is different from me. I don't like you, so let's battle. My mother is an ordained minister. I'm a Muslim. She didn't do backflips when I called her to tell her I converted 17 years ago. But I tell you now, we put things to the side, and I was able to — I'm able to see her. She's able to see me. We love each other. The love has grown, and that stuff is minutia. It's not that important." – Mahershala Ali
8:44 PM
A clip package is shown with actors talking about their pride in SAG-AFTRA.
8:45 PM
Michelle Dockery and James Marsden are teamed up to present Outstanding Performance by a Female Actor in a Television Movie or Limited Series. And the Actor goes to Sarah Paulson for The People v. O.J. Simpson: American Crime Story.
"This really means a lot to me because I feel like I wanted to be an actress since I was in utero, and to have this happen for a role that meant so much to me and acknowledged alongside so many extraordinary actresses that I revere is — makes it very special. Every day on this set was kind of like being in a very fine acting school. Courtney B. Vance would come up to each and every one of us in that courtroom and give us a little fist bump, a way of saying "I've got you and I know you've got me." And I want to share this with all you because I think it's very rare and special to have that kind of alchemy with that many people." – Sarah Paulson
8:49 PM
Viola Davis and Denzel Washington introduce the clip for the ensemble-nominated Fences.
8:51 PM
Salma Hayek is working solo to present Outstanding Performance by a Male Actor in a Television Movie or Limited Series. And the Actor goes to Bryan Cranston for his performance as LBJ in All the Way.
"I'm — I need to thank Bill Corso, whose make-up made me look like L.B.J. To Robert Schenkkan, whose brilliant script made me feel like L.B.J. And to Jay Roach, whose sublime direction made me behave like him. I'm often asked how would Lyndon Johnson think about Donald Trump. And I honestly feel that 36 would put his arm around 45 and earnestly wish him success. And he would also whisper in his ear something he said often as a form of encouragement and a cautionary tale. 'Just don't piss in the soup that all of us gotta eat.'" – Bryan Cranston
9:01 PM
Casey Affleck and Lucas Hedges are here next to introduce the clip from their film, Manchester by the Sea.
9:02 PM
Dolly Parton gets a standing ovation as she comes out to present Lily Tomlin with the Life Achievement Award. "Look at this room," said Dolly. "I almost didn't get in. They were holding me backstage, asking to see my IDs. At least I think that's what he asked to see. Maybe it was double Ds." After mentioning that her and Lily's 9 to 5 co-star was sick and unable to attend, she introduced a clip package of Tomlin's career.
9:10 PM
Lily Tomlin takes to stage. "The Doomsday Clock has been moved to 2.5 minutes to midnight, so this has come at the nick of time."
9:22 PM
Sophia Bush and Common are next. Sophia asks, "What do these have in common, Common? A paranoid hacker, a successful businessman, a world leader, an heir with ties to the opposition, and a sociopathic chief executive?"
Common replies, "If I say what I'm thinking, I'm risking a Twitter war, so I'll just say they're the characters played by the brilliant men nominated for Male Actor in a Drama Series." And the Actor goes to John Lithgow for The Crown.
"Thank you so much SAG-AFTRA and the SAG awards, actors honoring actors. And in that spirit, I would like to honor Sterling, Peter, Rami, and Kevin. And also a great and underrated actress, who somehow managed to speak my exact thoughts three weeks ago in another award ceremony, and that's Meryl Streep. Thank you so much." – John Lithgow
9:28 PM
Mahershala Ali and Naomie Harris are here to present the clip for the ensemble-nominated Moonlight.
9:30 PM
Alia Shawkat and Steven Yeun are presenting Outstanding Performance by a Female Actor in a Drama Series. And the Actor goes to Claire Foy for The Crown.
"Thank you so much. I haven't recovered from John winning, so I'm really emotional and a bit shaky. Oh, God. Thank you, everyone, who ever has made the show ever. But this is a night for actors. So I want to talk about actors because I love them. And I'm very, very honored to be one — I've got 44 seconds. Okay. There's 250 — over 250 actors in the show, all of whom are cast by Nina Gold and Robert Sterne, who can I just say, like, really support and encourage and champion the actors that they cast. And we all need a champion. So thank you very much." – Claire Foy
9:34 PM
Gabrielle Carteris, the former 90210 star who is now the SAG-Aftra president, talks about the union, thanks its brothers and sisters in the other entertainment unions, and pays tribute to three former Guild presidents who died recently: Ken Howard, William Schallert and Patty Duke. She then introduces the In Memoriam segment.
9:45 PM
Riz Ahmed and Rashida Jones present Outstanding Performance by an Ensemble in a Drama Series. Describing the shows they mention: A nation under the thumb of a monarchy. An aristocrat on the verge of bankruptcy forced to downsize. Good versus evil. Sex and violence. Life in medieval times. A return to the 1980s and a world upside-down. Outlaw robots running rampant without fear of retribution. Jones then quips, "These are all headlines we read this morning."
And the Actor goes to the sixteen actor ensemble of Stranger Things. Actor David Harbour gets the audience on their feet with a rousing commentary on the politics of the day.
"Now, as we act in the continuing narrative of Stranger Things, we 1983 midwesterners will repel bullies. We will shelter freaks and outcasts, those who have no home. We will get past the lies. We will hunt monsters, and when we are at a loss amidst the hypocrisy and the casual violence of certain individuals and institutions, we will, as per chief Jim Hopper, punch some people in the face when they seek to destroy the weak and the disenfranchised and the American rights, and we will do it all with soul with heart and with joy. We thank you for this responsibility. Thank you." – David Harbour
9:52 PM
"Glad I followed that," says Jonah Hill as he comes out to present Outstanding Performance by a Female Actor in a Leading Role. And the Actor goes to Emma Stone for her work in La La Land.
"Okay. Thank you so much for this. Wow. To be an actor playing an actor and receiving an actor by a guild of actors, it's pretty exceptional. Thank you. Oh, it's counting me down. Okay. I forgot everything that I ever have thought in my life. Okay. So thank you. I'm just — thank you so much to Damien Chazelle for this opportunity and for creating such a collaborative and beautiful atmosphere on set. We felt so heard by you, and that's unbelievable. Ryan, you are the best. That's just the truth. No one can argue it. The women in this category, really quickly, Meryl and Natalie and Amy and Emily, you guys inspire me beyond — I mean, you are just — you are the greatest and your talent and your intelligence are mind blowing." – Emma Stone
10:02 PM
Brie Larson, a winner last year for Room, is here to present Outstanding Performance by a Male Actor in a Leading Role. And the Actor goes to Denzel Washington for Fences. It's the first win for this six-time nominee.
"SAG, listen. We're just actors. You know, I'm famous and all that kind of stuff, but I have the same fear opening night, first preview, that anybody else has. We all have the same job. And this is not a testament to me, but it's a testament, obviously, to August Wilson. But God dog it, Steven Henderson, Myk- — I'm getting choked up. Mykelti, Seniyya, Jovan. You know, the guys that don't get recognized. So fellows, Seniyya, here we are. Oh, one last thing. Two. Viola Davis." – Denzel Washington
10:08 PM
And here to present the night's final award is Nicole Kidman. She's handling the duty for Outstanding Performance by a Cast in a Motion Picture. And the Actor goes to Hidden Figures. The cast gets a standing ovation as they take to the stage.
"This film is about unity. We stand here as proud actors, thanking every member of this incredible guild for voting for us and recognizing our hard work. But the shoulders of the women that we stand on are three American heroes: Katherine Johnson, Dorothy Vaughn, Mary Jackson. Without them, we would not know how to reach the stars. These women did not complain about the problems, their circumstances, you know, the issues. We know what was going on in that era. They didn't complain. They focused on solutions. Therefore, these brave women helped put men into space. We cannot forget the brave men that also worked with us. God rest his soul in peace, John Glenn. This story is of unity. This story is about what happens when we put our differences aside and we come together as a human race. We win. Love wins every time. " – Tariji P. Henson
10:11 PM
Kidman wishes everyone a good night.