4th Annual Screen Actors Guild Awards Results and Commentary (1998)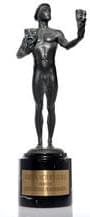 Actor Statuette
©2005 SAG
Date of Ceremony: Sunday, March 8, 1998
For performances seen in: 1997
The 4th Annual Screen Actors Guild Awards® aired live on TNT from the Los Angeles Shrine Exposition Center on Sunday, March 8, 1998.
While The Full Monty took home the ensemble film award, Helen Hunt and Jack Nicholson took home The Actor for their work in As Good as It Gets, a feat repeated at the Academy Awards. In fact, the individual categories accurately predicted Oscar night, as Robin Williams and Kim Basinger took home the supporting statuettes for the work in Good Will Hunting and L.A. Confidential respectively.
E.R. and Seinfeld added more trophies to their mantles.
Elizabeth Taylor was unable to attend due to a hospitalization, so screen legend Gregory Peck accepted the Life Achievement Award on her behalf.
Results
Outstanding Performance by a Cast in a Motion Picture
The Full Monty
Mark Addy, Paul Barber, Robert Carlyle, Deirdre Costello, Steve Huison, Bruce Jones, Lesley Sharp, William Snape, Hugo Speer, Tom Wilkinson and Emily Woof
Outstanding Performance by a Male Actor in a Leading Role
As Good as It Gets
Jack Nicholson
Outstanding Performance by a Female Actor in a Leading Role
As Good as It Gets
Helen Hunt
Outstanding Performance by a Male Actor in a Supporting Role
Good Will Hunting
Robin Williams
Outstanding Performance by a Female Actor in a Supporting Role
L.A. Confidential
Kim Basinger
Outstanding Performance by an Ensemble in a Drama Series
E.R.
Maria Bello, George Clooney, Anthony Edwards, Laura Innes, Alex Kingston, Eriq LaSalle, Julianna Margulies, Gloria Reuben and Noah Wyle
Outstanding Performance by a Male Actor in a Drama Series
Outstanding Performance by a Female Actor in a Drama Series
Outstanding Performance by an Ensemble in a Comedy Series
Seinfeld
Jason Alexander, Julia Louis-Dreyfus, Michael Richards and Jerry Seinfeld
Outstanding Performance by a Male Actor in a Comedy Series
3rd Rock From The Sun
John Lithgow
Outstanding Performance by a Female Actor in a Comedy Series
Seinfeld
Julia Louis-Dreyfus
Outstanding Performance by a Male Actor in a Television Movie or Miniseries
Outstanding Performance by a Female Actor in a Television Movie or Miniseries
Miss Evers' Boys
Alfre Woodard
34th Life Achievement Award