40th Toronto International Film Festival Coverage: Day Eight
Thursday, September 17th, 2015 by Ian Evans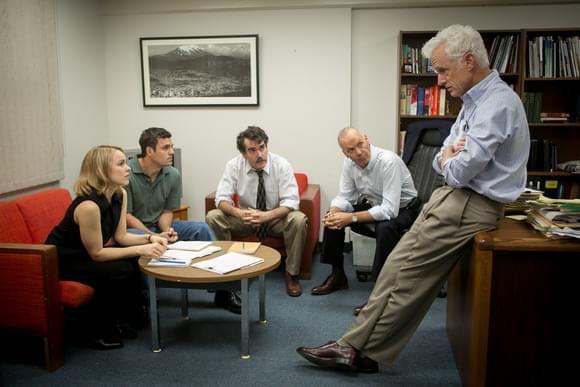 I screened two films today, Tom McCarthy's Spotlight and David Gordon Green's Our Brand is Crisis.
Spotlight is an ensemble drama starring Mark Ruffalo, Michael Keaton, Rachel McAdams, Liev Schreiber, John Slattery and Stanley Tucci. The film tracks the Boston Globe's Spotlight team, an investigative journalism unit, as it explores widespread child sex abuse cases in the Boston area and the Catholic Church's involvement in covering them up. The team ended up winning a Pulitzer Prize in 2003 for their work.
In a cinematic world of superheroes, giant effects and explosions, Spotlight is a quiet island of great acting and direction about a team of people doing their jobs and doing them well. There are no car chases here, just reporters digging through directories and court records, interviewing victims, and connecting the dots in a puzzle that many didn't want solved. Spotlight gave me the same sort of feeling I got when watching All the President's Men. In an age when politicians try to vilify the press, Spotlight is a reminder of why we need these ink-stained detectives on watch.
Where Spotlight is masterful, Our Brand is Crisis is pedestrian. Based on the 2005 documentary of the same name, the film stars Sandra Bullock as a U.S. political operative hired to help a struggling candidate (Joaquim de Almeida) in the Bolivian presidential elections. Bullock's character has to deal with an old nemesis (Billy Bob Thornton) who is helping out another more popular candidate. Bullock has easy comic timing and handles physical shtick with the best of them, but the material is below the bar she sets. It's like a race car engine in a minivan. Even as the comedy turns into more serious political commentary, I never found myself getting invested in the characters or situations.
Photo credit: Kerry Hayes/Open Road Films