Amber Heard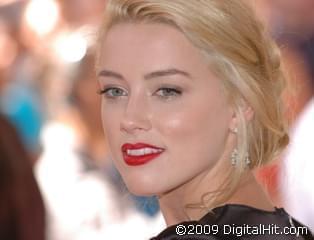 Check out our Amber Heard photo gallery.
Born: Apr. 22, 1986 Austin, Texas, USA
[Please note that we are recovering from a bad database backup and some of our bio entries might be a bit stale. We are baking up a fresh batch as soon as possible.]
Amber Laura Heard was born on April 22nd, 1986 in Austin, Texas. She made her television debut on an episode of Jack & Bobby and her feature film debut in 2004's Friday Night Lights with Billy Bob Thornton and Lucas Black.
In 2005, Amber was seen in SideFX, Drop Dead Sexy starring Jason Lee and in North Country playing the younger version of Charlize Theron's character. A busy year in 2006 saw Heard in Price to Pay, Alpha Dog with Emile Hirsch and Bruce Willis and playing the title role in All the Boys Love Mandy Lane.
In 2007, she appeared in You Are Here with Katie Cassidy, The Beautiful Ordinary with Lyndsy Fonseca and the series Hidden Palms with Sharon Lawrence. The following year, she was in Never Back Down with Sean Faris and Djimon Hounsou and Pineapple Express with Seth Rogen and James Franco.
Amber seemed to be everywhere in 2009. She was in The Informers with Kim Basinger and Mickey Rourke, ExTerminators with Heather Graham, The Jonses with David Duchovny and Demi Moore, Zombieland with Jesse Eisenberg and Woody Harrelson and The Stepfather with Dylan Walsh.
As time progresses, we'll have more info about Amber Heard here. If you have any comments or suggestions about our coverage, please email us.