Elisha Cuthbert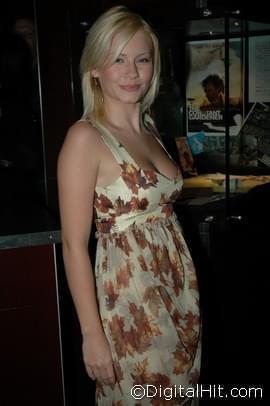 Check out our Elisha Cuthbert photo gallery.
Born: Nov. 30, 1982 Calgary, Alberta, Canada
[Please note that we are recovering from a bad database backup and some of our bio entries might be a bit stale. We are baking up a fresh batch as soon as possible.]
Elisha Ann Cuthbert was born on November 30th, 1982 in Calgary, Alberta, Canada. Cuthbert had been performing since she was a young girl as well as modeling since the age of seven.
Her first television gig was on the TV show Popular Mechanics for Kids which she hosted from 1997 to 2000.
In 1997, she appeared in the film Dancing on the Moon and followed that with 1998's Nico the Unicorn and Airspeed. In 1999, she was in Time at the Top and Who Gets the House? and also landed a recurring role on Are You Afraid of the Dark?
After ending her Popular Mechanics for Kids hosting gig and appearing in Believe in 2000, Elisha graduated to more mature roles like FOX-TV's 24 where she played Kiefer Sutherland's daughter from 2001 to 2006.
2001 also saw her in the TV movie Lucky Girl. In 2003, Cuthbert had a small role in Love, Actually and also appeared in Old School with Will Ferrell and Vince Vaughn. The following year, she played the porn star living next door to Emile Hirsch in The Girl Next Door. In 2005, she was in The Quiet with Katy Mixon and House of Wax with the pop culture pariah Paris Hilton.
2007 saw Elisha in He Was a Quiet Man and Captivity. After appearing in 2008's My Sassy Girl, Cuthbert returned to the role of Kim Bauer on 24 in 2009.
As time progresses, we'll have more info about Elisha Cuthbert here. If you have any comments or suggestions about our coverage, please email us.