Harrison Ford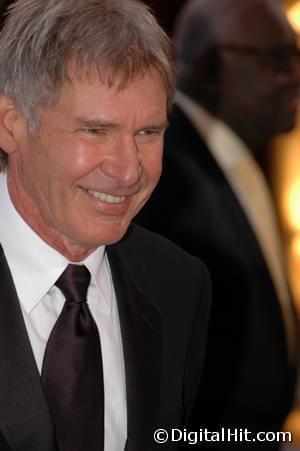 Check out our Harrison Ford photo gallery.
Born: July 13, 1942 Chicago, Illinois, USA
[Please note that we are recovering from a bad database backup and some of our bio entries might be a bit stale. We are baking up a fresh batch as soon as possible.]
Harrison Ford has been compared to a modern-day Gary Cooper or Gregory Peck. Filmgoers equate his rugged good looks and low-key style with an honest, hard working character. Ford himself has said that he is attracted to characters who are pretty ordinary but find the courage to do what needs to be done. This ability to pick good characters has led him to a film career that's been going since the late Sixties.
Born in Chicago on July 13th, 1942, Ford first appeared on movie screens in 1966 with an uncredited role as a bell hop in Dead Heat on a Merry-Go-Round. He did several other movies and TV appearances during that time but seemed to have better luck with his carpentry than with his acting. That changed when director George Lucas cast him in American Grafitti. The pair worked together again in 1977 when Lucas cast Ford as the cocky space pilot Han Solo in Star Wars, a role he reprised in The Empire Strikes Back (1980) and Return of the Jedi (1983).
While some actors are lucky if they get one popular film series in their career, Ford added another one starting in 1981 when he teamed with producer George Lucas and director Steven Spielberg on Raiders of the Lost Ark (1981) which was followed by Indiana Jones and the Temple of Doom in '84 and Indiana Jones and the Last Crusade (which co-starred Sean Connery) in 1989.
Okay, so an actor blessed with two successful and lucrative franchises won't find any other great roles, right? Wrong. In 1982, Ford made the sci-fi cult hit Blade Runner. He followed that with a great performance in 1985's Witness, a role that earned him an Oscar® nomination. That was followed by The Mosquito Coast in 1986 and Working Girl and Frantic in '88.
Ford started off the 90's with Presumed Innocent and Regarding Henry and then hopped into yet a third franchise when he took over the role of Jack Ryan that Alec Baldwin played in The Hunt for Red October. Ford played the CIA operative in both Patriot Games and Clear and Present Danger.
Ford then made The Fugitive in 1993, remade Sabrina in 1995, and worked with Brad Pitt in The Devil's Own. He took back control of a big plane in Air Force One and lost control of a smaller one in Six Days Seven Nights. He took critical beatings for Random Hearts and What Lies Beneath and then appeared in 2002's K-19: The Widowmaker.
In 2003, Ford appeared in the action-comedy Hollywood Homicide with Josh Hartnett and then made Firewall with Virginia Madsen in 2006.
In 2008, Ford played the adventurous archaeologist once again in Indiana Jones and the Kingdom of the Crystal Skull, which co-starred Shia LaBeouf and Cate Blanchett.
As time progresses, we'll have more info about Harrison Ford here. If you have any comments or suggestions about our coverage, please email us.