Kat Dennings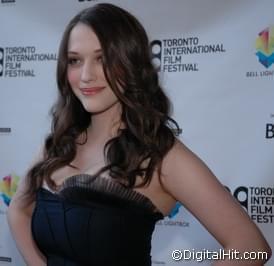 Check out our Kat Dennings photo gallery.
Born: June 13, 1986 Philadelphia, Pennsylvania, USA
[Please note that we are recovering from a bad database backup and some of our bio entries might be a bit stale. We are baking up a fresh batch as soon as possible.]
Katherine Litwack aka Kat Dennings was born on June 13th, 1986 in Philadelphia, Pennsylvania. Dennings was interested in acting at an early age and started appearing in commercials.
Her first TV acting gig came in 2000 on Sex and the City, where she played a girl who hires Samantha to publicize her bat mitzvah. Dennings was then seen in the short-lived 2001 sitcom Raising Dad playing Bob Saget's daughter
Kat made three TV movies — 2002's The Scream Team, 2003's The Snobs and 2004's Sudbury — before landing her first feature film, 2004's Raise Your Voice with Hilary Duff. In 2005, she made Down in the Valley with Edward Norton and Evan Rachel Wood, The 40 Year Old Virgin with Steve Carrell, and the drug crime drama London with Jason Statham and Chris Evans. That same year she also landed a multi-episode role on TV's ER.
Kat then worked with Martin Lawrence on 2006's Big Momma's House 2, and on 2007's Charlie Bartlett with Anton Yelchin and Robert Downey Jr.
She had a relatively high profile 2008 as she appeared in Nick and Norah's Infinite Playlist with Michael Cera and made The House Bunny with Anna Farris, Rumer Willis, Katherine McPhee and Emma Stone.
As time progresses, we'll have more info about Kat Dennings here. If you have any comments or suggestions about our coverage, please email us.