Peter Facinelli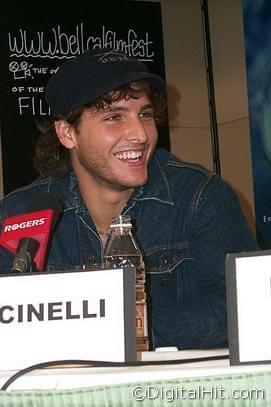 Check out our Peter Facinelli photo gallery.
Born: Nov. 26, 1973 Queens, New York, USA
[Please note that we are recovering from a bad database backup and some of our bio entries might be a bit stale. We are baking up a fresh batch as soon as possible.]
Peter Facinelli was born on November 26, 1973 in Queens, New York. After high school, he attended a year of St. John's University before realizing his gift for acting and began studying at the New York University-affiliated Atlantic Theater Company Acting School where his teachers include William H. Macy, Felicity Huffman and Giancarlo Esposito.
Peter was seen in many stage productions before making his feature film debut in Angela in 1995. From there, he was seen in a slew of TV movies like The Price of Love in 1995, An Unfinished Affair in 1996, and Calm at Sunset in 1996.
He appeared in the 1996 film Foxfire with Angelina Jolie and followed that with Touch Me with Amanda Peet in 1997. In 1998, Peter starred in Dancer, Texas Pop. 81 and played the popular jerk who dumps his equally popular girlfriend (Jennifer Love Hewitt) in Can't Hardly Wait. He followed that with 1999's The Big Kahuna where he worked with Kevin Spacey and Danny DeVito.
A busy 2000 had Facinelli appearing in Supernova with James Spader, Ropewalk with Lesley Ann Warren, and Honest opposite the girl band All Saints. That was followed by 2001's Riding in Cars with Boys starring Drew Barrymore, Rennie's Landing with Scott Foley, and Tempted with Saffron Burrows and Burt Reynolds.
In 2002, Peter worked with Dwayne "The Rock" Johnson on the Scorpion King and starred in the one season run of Fastlane with Tiffani Thiessen and Bill Bellamy. He then had a recurring role on the series Six Feet Under from 2004 to 2005.
Peter returned to the big screen with Chloe in 2005, The Lather Effect and Arc in 2006 and Battle Olympia in 2007. That same year, he was also seen in a recurring role in Damages opposite Glenn Close and Ted Danson. After appearing in 2008's Finding Amanda with Matthew Broderick and Brittany Snow, Facinelli played Dr. Carlisle Cullen in the widly popular teen vampire love story Twilight opposite Robert Pattinson and Kristen Stewart.
On the personal side, Peter married 90210 star Jennie Garth in 2001. The couple have three children.
As time progresses, we'll have more info about Peter Facinelli here. If you have any comments or suggestions about our coverage, please email us.