Fantastic Mr. Fox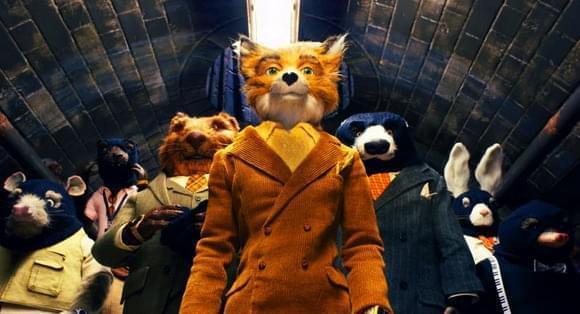 Photo: Photo Courtesy of Fox Searchlight Pictures
Director(s): Wes Anderson
Writer(s): Wes Anderson and Noah Baumbach
Cast: George Clooney, Meryl Streep, Jason Schwartzman, Bill Murray, Wally Wolodarsky, Eric Anderson, Michael Gambon, Willem Dafoe, Owen Wilson and Jarvis Cocker
Release Date(s)
Nov 25, 2009 - Wide
Read our review.
Wes Anderson's first animated film, Fantastic Mr. Fox, is based on the story by legendary children's author Roald Dahl, who also brought us Charlie and the Chocolate Factory and James and the Giant Peach. The film, shot using classic stop-motion techniques, features the voices of George Clooney, Meryl Streep, Jason Schwartzman, Bill Murray, Wally Wolodarsky, Eric Anderson, Michael Gambon, Willem Dafoe, Owen Wilson, and Jarvis Cocker.
Director Anderson first read the book as a child. "It was not only the first Roald Dahl book I ever read, it was the first book I ever owned," he says. "I loved the character of Mr. Fox, this sort of heroic and slightly vain animal. And I also loved the digging. My brothers and I were obsessed with being underground and with tunnels and forts. He's a wonderful writer and his personality comes through in the writing so forcefully."
Anderson felt he was in the late writer's presence when his widow allowed him to visit Dahl's writing hut. "Liccy showed me into Dahl's famous writing hut," Anderson continues. "There is part of a bone from his hip on the table next to his first metal hip replacement, which didn't take. There is a 10-pound ball of aluminum foil made from several years of Cadbury chocolate wrappers. There is a little surgical valve he invented that saved his son from hydrocephalus. That night Liccy left me to examine Dahl's manuscripts in an office next to the guesthouse. An archivist made me wash my hands twice with special soap and told me to close all the curtains and lock the door when I was finished. I was alone with dozens of handwritten drafts with Dahl's sketches in the margins, and I could see his whole process laid out in front of me. More than ever, I felt as if I were in his presence."
Anderson and frequent collaborator Noah Baumbach actually moved in with Mrs. Dahl during the writing of the screenplay, an assignment that required them to expand the story to fit a feature-length film. "A lot of changes have been made because it's a small book, so it had to be embroidered," muses Felicity Dahl, "and I think Roald would have approved a great deal of what Wes and Noah wrote in order to make it a full-length feature. I think it's sad that Wes never met Roald because I think they would have got on very well. But maybe it was better that Wes didn't meet Roald because he met him through the book, through his passion for the book."
In a time where many animated films are done with computer-generated imagery, Anderson decided to use stop-motion, a technique that dates back to 1898 and uses the frame-by-frame manipulation of a three-dimensional object.
"One of the things Wes likes about stop-motion is that there's a magic to it," says producer Jeremy Dawson. "He likes that it's handmade, and there's a craft to it. He's not a big fan of computer imagery, per se, because he likes process. The aesthetic of stop-motion lets you use lots of textures and crafted little things, and all his movies are so designed and executed and every detail is thought out. So it's sort of a perfect medium in that case."
Casting the voices, Anderson turned to George Clooney for his Mr. Fox. "George seemed like a natural choice," says Anderson, "because we needed somebody who was going to be a hero, and I think he is that automatically. I've wanted to work with him for a long time. So we sent him the script, and he said he'd do it."
Producer Allison Abbate agrees that Clooney was a perfect choice, "George was born to play this part. He's the right combination of Cary Grant and Clark Gable. He's got the debonair, gentlemanly quality of Grant as well as the animalistic, sexy side. I really believe he could steal some chickens."
For Mrs. Fox, they approached Meryl Streep, who quickly accepted. "When else am I going to be Mrs. George Clooney?" says Streep.
"She was an amazing choice," says Abbate. "She's the moral center of the movie in many ways. She can be strong, she can be funny, and she is definitely wifely. She stands by her man and helps him get out of scrapes. She's got a great relationship with Mr. Fox. She keeps him honest."
Whereas many animated film actors record their dialogue independently well in advance in a sound studio, Anderson asked his actors if they could try a more organic approach. They recorded the scenes together. If a scene had the characters running outside, the actors would do the same, chased by a boom mic operator. Anderson says, "George was happy to do that which I really appreciated. I thought it would be nice if we could have our cast together and try and make it a fun experience recording the voices, and that it might be nice if it sounded like when you were outside, that you were really outside — if we just did it for real. If we're going to record by a river, we'll go over by the river and if we're meant to be in an underground tunnel, we'll do it in somebody's basement. And that was the way we recorded it. And it was fun."
The simply wonderful Fantastic Mr. Fox open wide in North America on November 25th, 2009.
Read our review.